Holed Up For Jackson
Logan, Utah ~ Zollinger is linked to hill climb snowmobile racing like hydrogen and oxygen are linked to water; you can't have one without the other. Over the years, ZBROZ has won five world championships and hundreds of races. Through that success, AMSOIL has been right beside them, and always followed the three-brother team to the biggest hill climb event of the year, the World Championships in Jackson Hole, Wyo.
Attendance continues to grow at the annual show and the snow conditions were ripe for racing, despite the warm, spring temperatures. Thursday was arrival day and that meant the 2nd Annual 2-up race was held. This consisted of two riders racing side-by-side up a snake-turned course. In all, 75 drivers took part in the opening day event and it was Anthony Zollinger who took the win.
Friday and Saturday brought pro qualifiers to the mountain. In the four classes ZBROZ entered, Nate qualified in three, Anthony in two and Ryan was a perfect three for three. That meant more racing and more preparation for Sunday's main and more wins for the Zollingers.
In the 700 Mod class, Ryan found the top finish with Nate just three spots behind him in fourth. The 800 Mod class brought home another victory, this time it was Anthony. Finally, in the Open Mod class, Ryan once again found the podium with a third place finish.
Nathan and Anthony are the top two point getters in the 700 Mod class with Ryan sitting in fourth. In the 800 Mod class, Anthony is creeping toward the top 10 and currently sits in 11th. Anthony (6th) and Ryan (10th) are both in the top 10 in the Open Mod class.
ZBROZ Racing will be at the Pebble Creek Hill climb event in Pocatello, Idaho. Racing runs April 8-10.
A Little Spring Testing
Biwabik, Minn. ~ The World Snowmobile Association (WSA) wrapped up its season three weeks ago but Team AMSOIL/Scheuring Speed Sports is already looking toward a points championship in 2006. The top Snocross team decided to stay close to home last weekend and attended the annual Giant's Ridge Hill Cross event in Biwabik, Minn.
The event was mainly used for testing purposes, but like any other weekend of racing, Steve Scheuring and the boys were there to win some races. The biggest test for the team was to see how the new Polaris 600 motor would react to race conditions. Apparently the new engine is doing quite well. In the 600 and 700 classes, D.J. Eckstrom took home wins. Scheuring also said the 600 motor held up well in the 800 class, with Eckstrom taking home a couple of top three finishes.
Eckstrom finished the WSA season with two top-three overall finishes, including a second in Pro Stock and a third in Pro Open.

Super Stretch Run
Superior, Wis. ~ Each week in the AMA Supercross Series, the tracks get a little tougher, the pressure gets a little tighter and the competition gets a little better. For Team AMSOIL/Chaparral/Honda, all of the above are providing a tough stretch run into the final month of racing.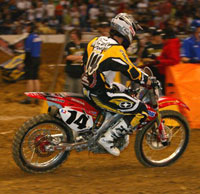 Finally healthy after a series of crashes, Kevin Windham was looking to return to the podium in theheart of Texas. Strong southern winds were blowing dust and riders around Texas Stadium last weekend. Windham, who entered the weekend third in the overall point standings, was in need of a podium to help start his final push. Enter a healed and rested James "Bubba" Stewart to the already explosive list of superstars, and "K-Dub" had his work cut out for him.

In a similar predicament lay Windham's teammate, Mike LaRocco. The 34-year-old was holding on to fourth place in the standings behind Ricky Carmichael, Chad Reed and Windham.

Windham started out the night strong by finishing second in his heat race just behind Reed. Despite a good gate selection for the main, K-Dub did not get the start he needed to contend for a spot on the podium. However, he battled from 16th to finish seventh. He grabbed enough points to remain third overall in the 250cc point standings.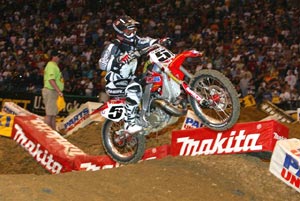 In traditional form, LaRocco showed his consistency by finishing third in his heat race won by Stewart. In the main event, "Rock" had a solid start, settling into eighth. He battled the two French riders David Vuillemin and Sebastian Tortelli throughout the 20-lap race. LaRocco eventually passed Vuillemin and finished the main in fifth.
Still sidelined from an injury sustained at the Orlando race, Juaqium Rodriguez was not able to race in Dallas. It has not yet been determined when he will return to action. Rodriguez currently holds 14th place overall in the 125cc East Coast THQ AMA Supercross Point Standings.

Rookie teammate Josh Grant had a great start in his heat race, but eventually came in contact with Josh Hansen in a corner causing both riders to crash. He was able to recover but did not earn a transfer spot into the main. Grant entered the LCQ, it was not his night as he was forced to watch the main event from the sidelines. He sits in ninth place for the 125cc East standings.

Be sure to catch the AMSOIL/Chaparral/Honda team at Pontiac, Mich. Saturday, April 9. Races will receive two hours of next day coverage on ESPN2. Be sure to check your local listings for show times.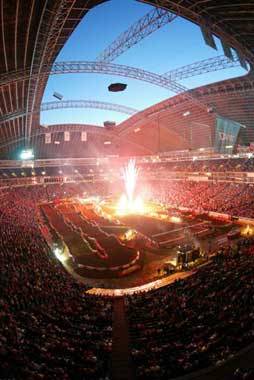 Picture of the Week
Irving, Texas ~ They say you have to attend a Supercross event to get a full understanding of the magnitude the show has to offer its fans. Here is a fish eye perspective from a bird's eye view of last weekend's race in Irving, Texas. More than 43,000 fans packed into Texas Stadium to watch history when James "Bubba" Stewart became the first African-American to win an AMA Supercross event. (Photo courtesy Steve Bruhn).