---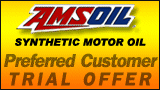 ---
Buy Wholesale
---
- NEW -
Amsoil Dealer ONLINE Registration the Fastest Way to Register
USA - Paper
Canada - Paper
Become an Amsoil Dealer and Buy at Wholesale Prices
Amsoil Preferred Customer Trial Offer Buy 25% Off Retail
Open a Commercial Business Account On-Line
Retail Accounts Sell AMSOIL in your Store or Shop
Amsoil Dealer Wholesale Price List
---
Request a Free Factory Catalog, Product & Technical Info
Toll Free 877-786-9582
---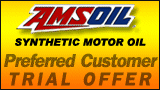 ---
Buy Now Online Store

To Order AMSOIL Products by Phone from Factory Call
7AM to 5PM Central Time
800-777-7094
Give the Operator
Reference # 1173195
---
Corporate Company, Products, and Opportunity Videos
---
Amsoil Snowmobile High Performance Oils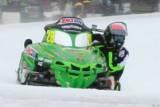 400,000 Miles of Snowmobile Testing - No Power Valve Sticking, Ring Sticking, & No Engine Failure!
A Look at Snowmobile Exhaust Power Valves
Amsoil Snowmobile Racing & Sponsorship
---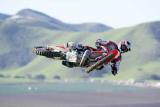 ---

Amsoil Motorcycle Synthetic Oils
AMSOIL Quality Impresses Harley Riders

AMSOIL Does not Void Harley Warranty
Why Harley Owners Choose AMSOIL Vs HD Oils
*NEW* EaO Synthetic Motorcycle Oil Filters Outperforms all other Cellulose and Synthetic Filters, Period
*NEW* EAA Synthetic Motorcycle Air Filters Surpasses all other Technology, Period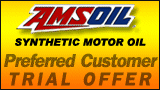 ---
Expert Advice For Your Vehicle
---
---

Amsoil Transmission Product Guide
---
Amsoil Turbo Diesel Pickup Truck Information Section
---
Ford Power Stroke 7.3 and 6.0 Turbo Diesels
Biodiesel Fuel and its effects on Engine Operation and Lubricant Service Life
*New* - Diesel Fuel Additive for Low Sulfur Fuel
Q/A - Why Change the Former AMSOIL Diesel Fuel Additive
EPA Has Mandated Changes for 2007 Diesel Engines
AMSOIL Diesel Oil for Model Year 2007 and Newer Heavy-Duty and Pickup Truck Diesel Engines
---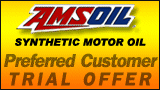 ---
Has the price of fuel got you down? We can help! Click on the following pages!
---
8.2% More MPG with AMSOIL Products
10 Ways to Help Reduce Our Dependency on Foreign Oil
AMSOIL Lubricants Save You Money
AMSOIL Reduces Operating Cost and Improves Efficiency
Amsoil Reduces Clark County Bus Operating Costs
---
Are You Concerned About the Environment? Please Read the Following
---
AMSOIL the Right Environmental Choice
Amsoil Preserving Our Environment
Synthetic Oils and the Environment
AMSOIL Pi Reduces Carbon Monoxide (CO) up to 26%
By-pass Filtration Systems Dramatically Extend Oil Drain Intervals
California to Bust 3,000 Mile Oil Myth
---
ExxonMobil Follows AMSOIL Into Extended Drain Market
Synthetics: The Auto Industries Best Kept Secret
Ten Myths About Synthetic Lubrication
AMSOIL, Inc. Product Chronology
North American Engine Oils May be Harmful to European Engines
Oil Color, Lubrication Ability and Contamination Level
The History of Engine Oil Filtration
---
Warranty Laws You Need to Know
---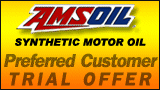 Comparative Motor Oil Test Results
AMSOIL Outperforms Valvoline Gear Lube
New White Paper - "A Study of Automotive Gear Lubes
Important Information: Converting to AMSOIL and Breaking in a New Engine
Easy Steps In Changing Automatic Transmission Fluid and Filters
Amsoil ATF Exceeds Ford Mercon V Oxidation Test
What to do when the Change Oil Light Comes On
40 Reasons for Oil Consumption
Amsoil Product Recommendations & Drain Interval Chart
Amsoil Motor Oil and Filter Guide
---
WIX Racing Oil, Air, and Fuel Filters
Red Line Oil vs. AMSOIL Racing Oil Wear Scar ASTM Test Results
Royal Purple Oil vs. AMSOIL Racing Oils Wear Scar ASTM Test Results
AMSOIL Checkered & Green Flag Racing Updates
---
---
Are Synthetics Really Too Expensive?
---
AMSOIL Distribution Center Locations
---
AGGRAND - Natural Lawn & Garden Products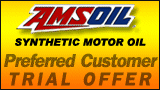 If you want to buy AMSOIL Products,
visit the AMSOIL On-Line Store
The Checkered Flag

August 5, 2005 Edition

GREEN FLAG

Reeling In Ricky

Washougal, Wash. ~ How does a rider prepare week in and week out to compete against one of the greats in the sport of motocross? For the past few years, no one has come up with a consistent answer. But if anyone has had number four's number it would have to be Kevin Windham. Heading into the 2005 season, K-Dub was the only rider in the 250cc class to top Carmichael. That was two years ago, however, and before this summer, Windham hadn't been riding with the same consistency of years past. It's funny how things change in the blink of an eye.

Towards the end of June, the AMSOIL/Chaparral/Honda star was riding hard at Red Bud, running in second. Coming up hard was young phenom James "Bubba" Stewart. The two would battle it out for a few laps before Stewart would get a little overaggressive and rub, or take out, Windham with his rear tire. The moved was met with a chorus of boos for Stewart and a twist of fate for Windham. Gone was the tentative riding style that was beset upon the Mississippi native during the grueling indoor season that saw K-Dub battle through poor starts and injuries. In its place was pure Cajun angst. People talk about how some athletes get "that fire in their eyes", and just by looking at the 28-year-old, one could tell that the preverbal fire had returned and he would once again be able to challenge Carmichael in the outdoor season.

The first true sign came three weeks ago when Windham became only the second person to beat Carmichael at an AMA Outdoor National in Unadilla this summer. He would finish second on the weekend after finishing the second moto in second place. The next week the AMSOIL/Factory Connection team headed to Lakewood, Colo. and Windham once again showed how his season was turning around by finishing both motos in second place. The strong showings quickly turned the battle for second place into a one-man show as K-Dub has entrenched his place in the overall standings.

After three consecutive runner-ups finishes, Windham was hoping the next trip to the box would find him at the top holding the winners cup. He had been getting great starts for most of the outdoor season, including holeshots each of the past three weekends. However, the Washougal, Wash. track would prove a challenge for number 14. At the start of moto one he found himself in an uncharacteristic ninth position off the starting line. Racing through traffic, K-Dub was able to navigate his way into second place by the fourth lap. Now chasing only RC, Windham could only hope that Carmichael would make a mistake. Unfortunately that did not happen and Windham finished second.

Looking for a better start in the second moto, K-Dub charged out of the gate settling in right behind Ernesto Fonseca. Windham quickly passed Fonseca for the lead, but was being closely followed by the series leader. Carmichael quickly passed Windham and once again checked out on the field of 250 chasers. Windham rode his Honda CRF450R to yet another second overall finish. So, for the fourth straight event K-Dub finished second overall while continuing to add cushion to his second place overall points in the AMA Motocross Championship 250 standings.


Top Five in 125 Action

Washougal, Wash. ~ Coming off a solid podium performance at Unadilla and a third overall in Colorado, rising star Josh Grant was looking to continue his streak of top ten finishes. With the 125 point standings so close, the most consistent racer over the twelve stop series will more than likely be crowned champion. Even though a win would be preferred, staying upright on the bike and scoring points will be imperative, and Grant did just that at Washougal. In the first moto, Grant rocketed out of the gate just behind fellow Honda racer Andrew Short. Grant held his own for most of the race, but did give up two spots finishing fourth in the moto. In moto two, Grant had another good start settling into third, but he struggled through the race holding on to finish eighth in the moto and fifth overall for the day. Achieving his goal of another top ten finish, Grant holds on to fourth in the overall 125-point standings.

After mechanical problems and crashes in Lakewood, Colo., Billy Laninovich was eager to put the prior weekend of racing behind him. Looking for a solid start in moto one, Laninovich did not get the jump he was hoping for settling into 16th. "Lano" was forced to fight through the traffic and dust to improve on his position and did just that by moving up four positions to finish 12th in moto one. Hoping to improve on the first moto results, Laninovich was unfortunately caught up in the carnage of the start in moto two and was once again forced to race from behind. He was able to push his way up to 25th, but unfortunately missed out on any additional series points. Billy finished 19th overall for the day, maintaining his 16th spot in the overall point standings.

There are some races when nothing seems to go your way. Unfortunately, for Tommy Hahn, the mechanical bug bit at Washougal. Hahn struggled in both motos failing to finish in the points. Even though Tommy did not score any points, he was able to maintain his 14th spot in the overall point standings. The Kansas rider was also tossed from his bike and had his bell rung slightly. However, Hahn said he is feeling fine and will be ready to ride at Millville (Minn.).


Better Late Than Never

Proctor, Wis. ~ The AMSOIL Late Model Series continued last weekend with races in Ashland, Wis. and Proctor, Minn. The action began Friday night at ABC Raceway where Elk Mound, Wis. native John Kaanta took the checkered flag.

Kaanta raced his way through the field from his 10th place starting spot, taking advantage of a caution flag on lap 27 of the 35 scheduled. Kaanta slipped past race-long leader and Series point leader Terry Casey of New London, Wis. at the restart. From then on Kaanta led on a track clear of lapped traffic to take the win.

Sunday night brought the AMSOIL Series to the Proctor Speedway for the Twin Ports Twin 25's. A spur of the moment decision put Kelly Estey in Bob Reed's number 41 Late Model and it paid off as he won the first of the two 25-lap features. The rest of the top-five included Steve Laursen, Joel Cryderman, Harry Hanson and Casey respectively. The first feature was for AMSOIL Series points.

The second feature was inverted by a blind draw. Frisbees were placed on the track with the number of cars to be inverted printed on them. Estey, the winner of the first feature, held the fate of perhaps 18 of his peers in his hands. As luck would have it, he picked up the one with 18 on it, meaning rookie Late Model driver Joey Jensen, who finished 17th in the first feature, started the second feature in the front row. At the green flag, Jensen got the jump on the veteran Tom Nesbitt and Andrew McKay, with John Kaanta fifth. Jensen held the lead for 25 laps, taking the win with Darrell Nelson, Pat Doar, Harry Hanson and Jeff Provinzino rounding out the top five.

Current Point Leaders

| | | |
| --- | --- | --- |
| | Car Number | Points |
| Terry Casey | 42c | 162 |
| Pat Doar | 11 | 151 |
| Harry Hanson | 7 | 146 |
| Steve Laursen | 19 | 144 |
| Jeff Broking | 5 | 136 |
| John Kaanta | 85 | 133 |
| Darrell Nelson* | 44 | 127 |
| Tom Waseleski | 1W | 127 |
| Todd Gehl | 2D | 125 |
| Joel Cryderman | 51 | 123 |

* Nelson is the defending AMSOIL Late Model Series champion.


Pro's and Con's

Solon Springs, Wis. ~ AMSOIL sponsored Late Model driver Brady Smith will be tearing up the track at Cedar Lake Speedway in New Richmond, Wis. this weekend. Smith will be running in two different events at Cedar Lake, where AMSOIL is the "Official Oil."

This weekend will mark the 18th running of the USA Nationals, boasting a $40,000 top prize. There will be an open practice session for the World of Outlaws Stacker Late Model Series-sanctioned event on Thursday evening, with qualifications and heat races for the nationals scheduled for Friday night. Smith will be aiming for the big race on Saturday evening, when consolation races are scheduled as well.

Smith will also participate in the Pepsi Cup, a $5,000 to win show on both Friday and Saturday for Cedar Lake Speedway's local Late Model class. Smith plans to enter both events over the weekend.

Smith competed in a trio of NARA Late Model Dirt Series events last week in Iowa and Illinois. The Deuce was on the move in the feature Thursday night in West Liberty, Iowa, but a flat tire took him out of contention. Saturday Smith ran in the $10,000 to win Illinois Valley Challenge at LaSalle Speedway in LaSalle, Ill. Smith had held the lead for over 14 laps and was battling for the point with Brian Birkhofer when an incident took him out of the race. The weekend wound down Sunday evening at the Tri-city Speedway in Granite City, Ill. The $10,000 to win feature event included NASCAR drivers Kenny Wallace, Mike Wallace and Ken Schrader. The race, taped by ESPN2, saw Smith finish 10th.

AMSOIL Co-op News

AMA District 22 (MX) in Iowa still has five races to go, but things are looking good for two AMSOIL riders. Casey and Konner Johnson are both sitting in the top five in point's in their respective classes. Casey is currently in fifth in the 85sr. division out of 145 total riders. Konner has done his brother one better by moving into fourth in the 65sr class. This is their first year of motocross competition. The Johnson's are sponsored by AMSOIL Dealer TimSullivan.

With the Finger Lakes Region (New York) SCCA Solo 2 season half over, Mike Smith and his FingerLakesSynthetics,com/AMSOIL sponsored Subaru Impreza are sitting in third place in the championship battle.

"I've got some tough competition this season," said Smith. "But we've been close to the front all year. A couple of good races should put us back in the hunt for the point's win."

Smith returns to action on August 7 at Monroe Community College in Rochester, N.Y. Smith is sponsored by AMSOIL Dealer Brad Timerson.