---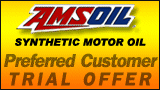 ---
Buy Wholesale
---
- NEW -
Amsoil Dealer ONLINE Registration the Fastest Way to Register
USA - Paper
Canada - Paper
Become an Amsoil Dealer and Buy at Wholesale Prices
Amsoil Preferred Customer Trial Offer Buy 25% Off Retail
Open a Commercial Business Account On-Line
Retail Accounts Sell AMSOIL in your Store or Shop
Amsoil Dealer Wholesale Price List
---
Request a Free Factory Catalog, Product & Technical Info
Toll Free 877-786-9582
---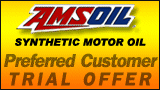 ---
Buy Now Online Store

To Order AMSOIL Products by Phone from Factory Call
7AM to 5PM Central Time
800-777-7094
Give the Operator
Reference # 1173195
---
Corporate Company, Products, and Opportunity Videos
---
Amsoil Snowmobile High Performance Oils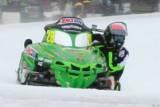 400,000 Miles of Snowmobile Testing - No Power Valve Sticking, Ring Sticking, & No Engine Failure!
A Look at Snowmobile Exhaust Power Valves
Amsoil Snowmobile Racing & Sponsorship
---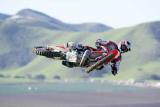 ---

Amsoil Motorcycle Synthetic Oils
AMSOIL Quality Impresses Harley Riders

AMSOIL Does not Void Harley Warranty
Why Harley Owners Choose AMSOIL Vs HD Oils
*NEW* EaO Synthetic Motorcycle Oil Filters Outperforms all other Cellulose and Synthetic Filters, Period
*NEW* EAA Synthetic Motorcycle Air Filters Surpasses all other Technology, Period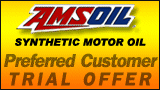 ---
Expert Advice For Your Vehicle
---
---

Amsoil Transmission Product Guide
---
Amsoil Turbo Diesel Pickup Truck Information Section
---
Ford Power Stroke 7.3 and 6.0 Turbo Diesels
Biodiesel Fuel and its effects on Engine Operation and Lubricant Service Life
*New* - Diesel Fuel Additive for Low Sulfur Fuel
Q/A - Why Change the Former AMSOIL Diesel Fuel Additive
EPA Has Mandated Changes for 2007 Diesel Engines
AMSOIL Diesel Oil for Model Year 2007 and Newer Heavy-Duty and Pickup Truck Diesel Engines
---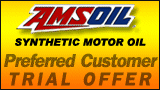 ---
Has the price of fuel got you down? We can help! Click on the following pages!
---
8.2% More MPG with AMSOIL Products
10 Ways to Help Reduce Our Dependency on Foreign Oil
AMSOIL Lubricants Save You Money
AMSOIL Reduces Operating Cost and Improves Efficiency
Amsoil Reduces Clark County Bus Operating Costs
---
Are You Concerned About the Environment? Please Read the Following
---
AMSOIL the Right Environmental Choice
Amsoil Preserving Our Environment
Synthetic Oils and the Environment
AMSOIL Pi Reduces Carbon Monoxide (CO) up to 26%
By-pass Filtration Systems Dramatically Extend Oil Drain Intervals
California to Bust 3,000 Mile Oil Myth
---
ExxonMobil Follows AMSOIL Into Extended Drain Market
Synthetics: The Auto Industries Best Kept Secret
Ten Myths About Synthetic Lubrication
AMSOIL, Inc. Product Chronology
North American Engine Oils May be Harmful to European Engines
Oil Color, Lubrication Ability and Contamination Level
The History of Engine Oil Filtration
---
Warranty Laws You Need to Know
---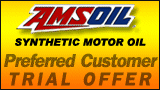 Comparative Motor Oil Test Results
AMSOIL Outperforms Valvoline Gear Lube
New White Paper - "A Study of Automotive Gear Lubes
Important Information: Converting to AMSOIL and Breaking in a New Engine
Easy Steps In Changing Automatic Transmission Fluid and Filters
Amsoil ATF Exceeds Ford Mercon V Oxidation Test
What to do when the Change Oil Light Comes On
40 Reasons for Oil Consumption
Amsoil Product Recommendations & Drain Interval Chart
Amsoil Motor Oil and Filter Guide
---
WIX Racing Oil, Air, and Fuel Filters
Red Line Oil vs. AMSOIL Racing Oil Wear Scar ASTM Test Results
Royal Purple Oil vs. AMSOIL Racing Oils Wear Scar ASTM Test Results
AMSOIL Checkered & Green Flag Racing Updates
---
---
Are Synthetics Really Too Expensive?
---
AMSOIL Distribution Center Locations
---
AGGRAND - Natural Lawn & Garden Products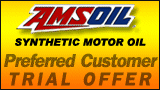 If you want to buy AMSOIL Products, visit the AMSOIL On-Line Store
The information contained in this website is brought to you by Kent Whiteman an authorized full-time AMSOIL Premiere Direct Jobber.
As an AMSOIL Dealer, with one of the Largest AMSOIL Dealer Groups in the Nation, I work very closely with our Group of professionally trained and experienced truck/automotive engineers, professional heavy industrial repair and manufacturing experts, along with our certified lubrication specialists. Our fully committed AMSOIL Group has the knowledge, the energy, and the desire to assist and educate the AMSOIL Synthetic consumer in anyway we can.
Our goal is to recommend the exact products and systems that will provide the maximum performance and durability for your vehicle as well as save you time and money.
We welcome the opportunity to work with you in the selection of the best AMSOIL Products for your application, and/or to assist you in your AMSOIL Wholesale Dealership Business.
The Checkered Flag

January 12, 2006 Edition

GREEN FLAG

Changes Make Debut in Anaheim
LaRocco finds new lines on new bike and AMSOIL/Factory Connection team gets new look.

Anaheim, Calif. ~ Since the 2000 racing season opened, AMSOIL has been the proud sponsor of the Factory Connection Motocross/Supercross team. The team has changed over the past six seasons. It started out with one rider, Mike LaRocco, and has grown into a seven-member juggernaut in the world of dirt bike racing.

LaRocco has been the one constant during this impressive run. But things are changing within the Factory Connection trailers. First, AMSOIL, in an effort to diversify its sponsorship program, has stepped down from title sponsor to the lead associate sponsor. That means race fans will see SoBe and Samsung in bigger spots on the bikes and trailers.

Secondly, there's a change that many might not notice just by looking under the awnings. LaRocco, who for his entire career has run a two-stroke engine, is now packing a little more power at the throttle. During the off-season, the grand old man of supercross made a collective decision with Factory Honda to ride the company's 4-stroke 450 CRF. At Anaheim 1, the AMA Supercross opener for 2006, there were only three 2-strokes left in the field. Of course, the Rock's set-up was different than most of his 2-stroke counterparts. His bike didn't have the stepped seat.

"I just think it looks funny, and I wanted to design my bike so I didn't need one. It seems awkward, but Pro Circuit did my motors, and we made it really friendly to ride, so I think it's just one of those things where I'm comfortable without it."

The new set-up proved to be a good move during the first weekend of racing. LaRocco was running with the race leaders during his qualifying heat before he dumped the Honda in the long rhythm section coming out of turn one. He would make up for his fall in the semi-finals when he snatched the lead on lap two and rode to an easy win.

In the main, LaRocco came out of the first turn within reach of the leaders. He quickly settled into fourth, then third, and was able to hold that spot for most of the race. It wasn't until the final few laps that LaRocco gave ground to Ricky Carmichael. After battling with lap-traffic, LaRocco was unable to hold of RC, dropping the Indiana native back into fourth, where he would finish the race.

Supercross Lites
One podium and strong rookie debut

Anaheim, Calif. ~ Everyone in the Factory Connection trailer, including his teammates, are saying this is Billy Laninovich's year to make a name for himself in supercross. The California native won one race in 2005 and was riding well in the outdoor season before getting injured. However, the time off seems to be doing "Lano" well. In the first two races of the World Supercross Series in Toronto and Vancouver, Laninovich picked up two podiums. He was hoping to build off that success at the AMA Supercross opener, and with a little luck he found himself on the podium.

When the gate dropped in the qualifying heat, Laninovich found himself tied up with the pack. He was slowed even more by a first turn pile-up. But this is a new year and Laninovich seems to be a new rider. He charged up to finish fourth by the end of the qualifier. When the main event opened, Laninovich got a better start, and after just a few laps, was able to work his way into second. He stayed in that slot for most of the race, until eventual race winner Andrew Short got past him. Laninovich was never really challenged after that point and ended up taking third in the first Supercross Lites West Coast race of the year.

The newest member of the AMSOIL team, Jake Weimer, joined Laninovich on a supercross track for the first time. Weimer, who hails from Idaho, was running some of the fastest lap times in practice before crashing hard off the first-base triple. Some members of the team worried it might be a season-ending injury, but when the night program kicked off, Weimer was on the starting line. By the time the evening ended, Weimer had finished a solid seventh, though he was still hurting.

LaRocco, Laninovich and Weimer will all be in action next weekend as the AMA Supercross Series heads to Phoenix, AZ for round two. The Supercross Series can be seen on both CBS and Speed Channel.

PJ Performs in Plymouth

Plymouth, Wis. ~ Wanderscheid Racing went to Wisconsin last weekend for the second leg of the Millennium Technologies and VFORCE Oval Ice Challenge. The team has been testing extensively at their Sauk Centre, Minn. home and has been pleased with their early season results.

On Saturday, PJ Wanderscheid took to the ice with the temperatures hovering around 32 degrees. Despite the almost non-freezing temperatures, the ice on the track was holding up well. Wanderscheid ran two heats on Saturday in the 600 Open class, winning both of them. That gave him his choice of starting spots for the main. In the final, he was able to launch of the line with a good hole shot before settling into second. A mechanical issue forced the AMSOIL sled to move back two spots, but Wanderscheid was able to hold onto a fourth place finish, just inches from the third and final podium spot.

On Sunday, the team had the Arctic Cat dialed in for the Champ 440 class. With the temperatures hitting near 40-degrees, the ice was a lot softer than the previous day's racing. Wanderscheid again made a clean sweep of the heat races, winning all three qualifiers. In the final, it was a three-way battle for the lead coming out of turn one, with Wanderscheid falling in to the second spot behind Gary Moyle. While trying to catch the race leader, Wanderscheid was also battling with Terry Wahl. When the checkered flag dropped, Wanderscheid was able to hold Wahl off for second.

"We had a lot of great success this weekend," said Wanderscheid. "I was very pleased with the setup of the sleds this week. Our crew chief, Mark Wanderscheid, really has the sleds jumping out to great hole shots."

The AMSOIL/Wanderscheid Oval Ice team will be at the biggest oval ice race in the United States this weekend as PJ tries to take home his third World Championship from the Eagle River Snowmobile Derby in Eagle River, Wis.
AMSOIL Dealership and Preferred Customer Wholesale Pricing Information
· Minimal Dealership start-up fee ($15 for 6-months, $30 for 1-year)
· $10 for 6-months Preferred Customer Membership
· Premium Quality Product Line
· No inventory requirements or territory restrictions
· No capital investment
· No employee expenses or requirements
· You choose your level of time investment
· Excellent tax benefits
· Exclusive Dealership Internet Promotional Package to help you get started & keep you up to date.
· Expert assistance from your sponsor, a Lubrication Specialist and Race Car Builder/Fabricator with over 25 years experience.
Use the form below to get complete product/ technical and Dealership/Preferred Customer information and to find out how you can get a large discount on all your AMSOIL purchases while building a stable and solid business.