---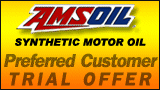 ---
Buy Wholesale
---
- NEW -
Amsoil Dealer ONLINE Registration the Fastest Way to Register
USA - Paper
Canada - Paper
Become an Amsoil Dealer and Buy at Wholesale Prices
Amsoil Preferred Customer Trial Offer Buy 25% Off Retail
Open a Commercial Business Account On-Line
Retail Accounts Sell AMSOIL in your Store or Shop
Amsoil Dealer Wholesale Price List
---
Request a Free Factory Catalog, Product & Technical Info
Toll Free 877-786-9582
---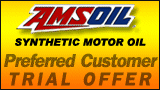 ---
Buy Now Online Store

To Order AMSOIL Products by Phone from Factory Call
7AM to 5PM Central Time
800-777-7094
Give the Operator
Reference # 1173195
---
Corporate Company, Products, and Opportunity Videos
---
Amsoil Snowmobile High Performance Oils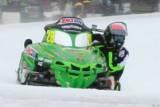 400,000 Miles of Snowmobile Testing - No Power Valve Sticking, Ring Sticking, & No Engine Failure!
A Look at Snowmobile Exhaust Power Valves
Amsoil Snowmobile Racing & Sponsorship
---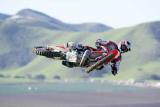 ---

Amsoil Motorcycle Synthetic Oils
AMSOIL Quality Impresses Harley Riders

AMSOIL Does not Void Harley Warranty
Why Harley Owners Choose AMSOIL Vs HD Oils
*NEW* EaO Synthetic Motorcycle Oil Filters Outperforms all other Cellulose and Synthetic Filters, Period
*NEW* EAA Synthetic Motorcycle Air Filters Surpasses all other Technology, Period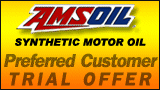 ---
Expert Advice For Your Vehicle
---
---

Amsoil Transmission Product Guide
---
Amsoil Turbo Diesel Pickup Truck Information Section
---
Ford Power Stroke 7.3 and 6.0 Turbo Diesels
Biodiesel Fuel and its effects on Engine Operation and Lubricant Service Life
*New* - Diesel Fuel Additive for Low Sulfur Fuel
Q/A - Why Change the Former AMSOIL Diesel Fuel Additive
EPA Has Mandated Changes for 2007 Diesel Engines
AMSOIL Diesel Oil for Model Year 2007 and Newer Heavy-Duty and Pickup Truck Diesel Engines
---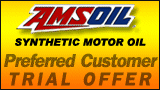 ---
Has the price of fuel got you down? We can help! Click on the following pages!
---
8.2% More MPG with AMSOIL Products
10 Ways to Help Reduce Our Dependency on Foreign Oil
AMSOIL Lubricants Save You Money
AMSOIL Reduces Operating Cost and Improves Efficiency
Amsoil Reduces Clark County Bus Operating Costs
---
Are You Concerned About the Environment? Please Read the Following
---
AMSOIL the Right Environmental Choice
Amsoil Preserving Our Environment
Synthetic Oils and the Environment
AMSOIL Pi Reduces Carbon Monoxide (CO) up to 26%
By-pass Filtration Systems Dramatically Extend Oil Drain Intervals
California to Bust 3,000 Mile Oil Myth
---
ExxonMobil Follows AMSOIL Into Extended Drain Market
Synthetics: The Auto Industries Best Kept Secret
Ten Myths About Synthetic Lubrication
AMSOIL, Inc. Product Chronology
North American Engine Oils May be Harmful to European Engines
Oil Color, Lubrication Ability and Contamination Level
The History of Engine Oil Filtration
---
Warranty Laws You Need to Know
---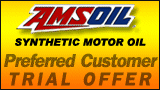 Comparative Motor Oil Test Results
AMSOIL Outperforms Valvoline Gear Lube
New White Paper - "A Study of Automotive Gear Lubes
Important Information: Converting to AMSOIL and Breaking in a New Engine
Easy Steps In Changing Automatic Transmission Fluid and Filters
Amsoil ATF Exceeds Ford Mercon V Oxidation Test
What to do when the Change Oil Light Comes On
40 Reasons for Oil Consumption
Amsoil Product Recommendations & Drain Interval Chart
Amsoil Motor Oil and Filter Guide
---
WIX Racing Oil, Air, and Fuel Filters
Red Line Oil vs. AMSOIL Racing Oil Wear Scar ASTM Test Results
Royal Purple Oil vs. AMSOIL Racing Oils Wear Scar ASTM Test Results
AMSOIL Checkered & Green Flag Racing Updates
---
---
Are Synthetics Really Too Expensive?
---
AMSOIL Distribution Center Locations
---
AGGRAND - Natural Lawn & Garden Products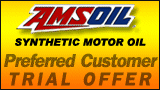 If you want to buy AMSOIL Products,
visit the AMSOIL On-Line Store
The Checkered Flag

March 30, 2005 Edition

GREEN FLAG

A Rocky Start

Moab, Utah ~ Things are getting off to a rocky start for Team AMSOIL this spring. The Lovell Rock Climbing team out of Colorado began their season at the WEROC event held in Moab, Utah last weekend. The event, which was run in conjunction with the Easter Jeep Safari, was an unscheduled surprise for the team, one that fared well when the weekend came to a close.

The team was only going to use the event as a practiceround. Their goal: get the bugs worked outbefore the first UROC Pro National event in two weeks. The team finished the WEROC event in third and proved once again that they are among the world's elite rock climbing teams.

The team, which consists of brothers Brad (driver) and Roger (spotter) Lovell, recently completed work on their 2005 race vehicle.

"We have spent many hours tracking down the best parts and redesigning the chassis," said Brad. "The complexity of the race vehicles is increasing as teams continue to look for more performance. Some teams build a rock crawler in a matter of weeks. We spent two and a half months designing and constructing the front half of the chassis."

Lovell Rock Racing won the 2004 Extreme West Modified Championship and came in a close second place at the prestigious SuperCrawl III. In their rookie year of competition, the Lovells won an unprecedented four out of four UROC series events. The 2005 season kicks off in Salt Lake City starting April 6.

Holed Up For Jackson

Logan, Utah ~ The Zollinger Brothers, Anthony and Nate, continue their dominance in the world of hillclimb. Two weeks ago ZBROZ Racing headed to the Brian Head Ski Resort in southern Utah. The annual snowmobile event featured rolling hills and a manmade snow cross style course.

During Friday's qualifying the brothers advanced to thefinals in the top three of two classes each. Line choiceand the ability to stay on top of their sleds proved the biggest advantages during Saturday's racing. Anthony had a strong weekend, finishing 6th in the Mod 700 class and took a podium with a second in the Mod 800 class. Nate, meanwhile, scored two top five finishes. In the Stock 700 class he finished fifth overall and topped that with a fourth in the Mod 700 class.

The team is getting ready for the biggest Rocky Mountain Snowmobile Hillclimb Association race of the year in Jackson, Wyo. this weekend. Nate is first overall in the Mod 700 class with 479 points. Anthony is second with
451 points.

Northern Trek Cancelled

Aurora, Minn. ~ The World Snowmobile Association (WSA) wrapped up its season two weeks ago in Lake Geneva, Wis. Team AMSOIL/Scheuring Speed Sports pilot D.J. Eckstrom finished the year with two top-three overall finishes, including a second in Pro Stock and a third in Pro Open.

The team was expected to head north to Craighurst, Ontario this weekend for the final Canadian Snowcross Racing Association event. However, a crash at Lake Geneva involving Eckstrom has put a hold on those plans. Eckstrom suffered a concussion during the wreck and the team decided to sideline him for the remainder of the season.

Supercross Series Leaders

Superior, Wis. ~ Team AMSOIL/Chaparral/Honda has been getting some much needed rest before heading into the stretch run of the AMA Supercross series. The team has been testing on the East Coast for the past two weeks. They resume action this Saturday at Texas Stadium in Irving, Texas.

For the season, Team AMSOIL rider Kevin Windham currently sits in third overall in the 250cc point standings. Teammate Mike LaRocco is close behind in fourth.

In the 125cc class, rookie Josh Grant is currently in seventh in the 125cc East Coast THQ AMA Supercross standings. Juaqium Rodrigues sits in tenth. In the 125cc West Coast THQ AMA Supercross Standings, Billy Laninovich is currently in third while teammate Tommy Hahn is in eighth. The West Coast Series is idle until April 16 in Seattle.

Be sure to catch the AMSOIL/Chaparral/Honda team at the Irving, Texas on Saturday, April 2. This year's races will receive two hours of next day coverage on ESPN2. Check your local listings for show times.