USA! USA! USA!
Ernee, France ~ Team AMSOIL/Chaparral/Honda's Kevin Windham helped Team USA to its first Motocross des Nations (MXdN) victory since 2000 at the Ernee circuit in France last Sunday. The French home team came in second and Belgium was third.
Windham, who was joined by AMA Motocross champion Ricky Carmichael and Ivan Tedesco, finished fifth in his race. Windham lead most of the race and grabbed the holeshot, but a run-in with a lapped rider caused problems with his brakes, leading to the fifth place finish.
Below is an excerpt from Racer X online interview with the world champ shortly after his win:
Racer X: What happened to you in that second moto, the first moto you were in? You were checking out, then what?
Windham: "A lapper was going up the big hill in the middle. I thought he was going to give way, and I had a lot of entry speed into that corner and he didn't. I had to back it down, and I leaned way over on the inside and there was a rut, and I clipped the inside stake and it grabbed my front brake really hard. I almost saved it, then I hit a rock after that and I went down. Man, I bent everything, my sub-frame, my front end, and I think my rotor. The first time after that I got any major air was that big tabletop in the middle, and my front wheel stopped, and when it did, the front end of my bike just dropped and I almost busted my ass. I was able to save it, and I rode as hard as I could, but I was scared to catch a lot of air like that."
Racer X: Is this a race where these crazy things happen, like, due to the pressure? It seems so much happens that no one wants to win it.
Windham: In Brazil when we went, we almost had a chance, and then we had some really bad luck. This time, at the beginning of the day when it was raining, he told me, "We don't have to worry about you, you never fall." And sure enough, I'm down on my head. It was an easy fall, and to get the damage that I had to my bike was unbelievable. So yeah, crazy things happen. Pichon went down. It's a crazy race, and all the emphasis is on just one day. In one day, we decide which is the best country."
Windham and Team AMSOIL will be competing in the U.S. Open of Supercross at the MGM Grand in Las Vegas, Nev., the weekend of Oct. 7-9.
The Dutchman Sweeps Again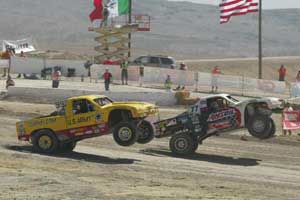 San Diego, Calif. ~ The final points rounds of the 2005 CORR season brought the AMSOIL/Kumho Tires Super Team to Chula Vista International Off Road Raceway in Southern California. The new track has a very fast, wide-open layout on a dry dusty surface, but it was one all of the driver's could get used too.
"This is track was awesome," said Dan Vanden Heuvel. "It's second to none. I have never seen anything like this before. CORR has really outdone itself with this set-up."
Vanden Heuvel set out during the final point's weekend for the CORR series with one goal, a weekend sweep. Saturday's marked round 13 for the series, and 19 trucks in the Pro-2 and Sportsman class took the starting line. Vanden Heuvel and teammate Mike Oberg were sitting on the same starting line for this event, and both drivers would dominate.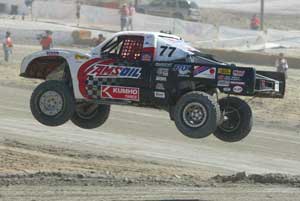 Vanden Heuvel got a good jump off the line and went into turn one in third. By the end of lap one, he had moved the #77 Chevy into second place. The leader's pace was fast, but it only took The Flying Dutchman three laps to chase him down and take over the lead. As his AMSOIL/Kumho Tire truck pulled farther away from the competition, his lap times kept getting faster and faster. By the time he pushed the #77 over the finish line, he had grabbed the track speed record and his second win of the season.
"Unbelievable," said Vanden Heuvel. "This track is the fastest thing I've ever raced on."
Meanwhile, Oberg was one of the fastest running Sportsman truck. The Eagle River, Wis. native piloted his Chevrolet across the finish line as the second fastest truck in his class on Saturday. Pro-4 driver, Steve McCrossan finished his race in eighth.
Sunday Round 14
Saturday's win boosted Vanden Heuvel to third in the overall points race and only 6 points away from second place. Twenty trucks lined up again and headed for the first corner. This time coming out of turn one in fourth, there was a lot of pressure behind The Dutchman and faster trucks out in front. But the same story would unfold, this time taking Vanden Heuvel seven laps of door-to-door racing to reach third place. In the fight for the lead, the second place truck got a flat tire from contact with another driver, and the other was disqualified for not serving a black flag penalty. This put Vanden Heuvel in second, and he would quickly catch the 3-wheeled leader. With three laps to go there would be no more challengers. Vanden Heuvel would find smooth sailing and pushed the AMSOIL/Kumho Super Team to the weekend sweep weekend.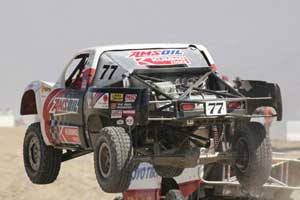 "As our team celebrated in the winners circle, our points situation started to unfold," said Vanden Heuvel. "The win earned us the points to tie for second place, but the driver we shared the spot with failed to go to post race inspection. He was docked three points by the CORR officials, giving us complete and sole ownership of the number two spot."
The AMSOIL/Kumho Tires Super Team will be staying at Chula Vista International Speedway preparing the truck for the next weekend's Nissan Shootout. Held on the same track, the bonus weekend will bring a total payout of $330,000 to the table.
Mr. Smith Goes To Iowa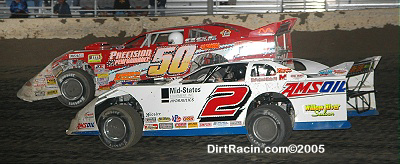 Solon Springs, Wis. ~ Following a weekend off to ready for this weekend's big event at the Knoxville Raceway in Knoxville, Iowa, the Brady Smith Racing team will bring their AMSOIL #2 MasterSbilt from Mars / Pro Power Monte Carlo to the famed 1/2-mile, high-banked oval on Thursday.

Drivers that enter this year's version of the 'Knoxville Late Model Nationals' will compete in one of two nights of preliminary racing action. Each of the preliminary qualifying nights will be complete programs with time trials, inverted heats, C, B and A-Mains. The top 24 in points from both qualifying nights go right to the 100-lap, $35,000 to win 'Knoxville Late Model Nationals' feature event. The remaining six starters will come from a series of non-qualifier mains on Saturday before the 'Knoxville Late Model Nationals' A-Main. The unsanctioned event will be taped by the cameras of the SPEED Channel for viewing at a later date. For more information concerning this event, point your web browser to www.knoxvilleraceway.com.
"I am really excited to go back to Knoxville," said Smith. "I had a good run going there last year until our power steering pump broke in the early stages of the race. We actually led lap one and then couldn't hold on, as the car kept getting harder and harder to drive with the broken pump. This is definitely one of the biggest races of the year for us and hopefully we can perform at a high level. I really like the track and the high speeds that it presents. The whole weekend should be a lot of fun and we will see what happens!"