---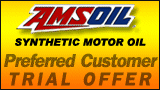 ---
Buy Wholesale
---
- NEW -
Amsoil Dealer ONLINE Registration the Fastest Way to Register
USA - Paper
Canada - Paper
Become an Amsoil Dealer and Buy at Wholesale Prices
Amsoil Preferred Customer Trial Offer Buy 25% Off Retail
Open a Commercial Business Account On-Line
Retail Accounts Sell AMSOIL in your Store or Shop
Amsoil Dealer Wholesale Price List
---
Request a Free Factory Catalog, Product & Technical Info
Toll Free 877-786-9582
---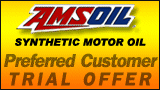 ---
Buy Now Online Store

To Order AMSOIL Products by Phone from Factory Call
7AM to 5PM Central Time
800-777-7094
Give the Operator
Reference # 1173195
---
Corporate Company, Products, and Opportunity Videos
---
Amsoil Snowmobile High Performance Oils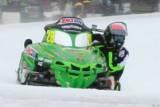 400,000 Miles of Snowmobile Testing - No Power Valve Sticking, Ring Sticking, & No Engine Failure!
A Look at Snowmobile Exhaust Power Valves
Amsoil Snowmobile Racing & Sponsorship
---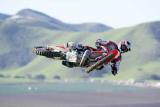 ---

Amsoil Motorcycle Synthetic Oils
AMSOIL Quality Impresses Harley Riders

AMSOIL Does not Void Harley Warranty
Why Harley Owners Choose AMSOIL Vs HD Oils
*NEW* EaO Synthetic Motorcycle Oil Filters Outperforms all other Cellulose and Synthetic Filters, Period
*NEW* EAA Synthetic Motorcycle Air Filters Surpasses all other Technology, Period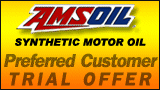 ---
Expert Advice For Your Vehicle
---
---

Amsoil Transmission Product Guide
---
Amsoil Turbo Diesel Pickup Truck Information Section
---
Ford Power Stroke 7.3 and 6.0 Turbo Diesels
Biodiesel Fuel and its effects on Engine Operation and Lubricant Service Life
*New* - Diesel Fuel Additive for Low Sulfur Fuel
Q/A - Why Change the Former AMSOIL Diesel Fuel Additive
EPA Has Mandated Changes for 2007 Diesel Engines
AMSOIL Diesel Oil for Model Year 2007 and Newer Heavy-Duty and Pickup Truck Diesel Engines
---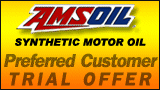 ---
Has the price of fuel got you down? We can help! Click on the following pages!
---
8.2% More MPG with AMSOIL Products
10 Ways to Help Reduce Our Dependency on Foreign Oil
AMSOIL Lubricants Save You Money
AMSOIL Reduces Operating Cost and Improves Efficiency
Amsoil Reduces Clark County Bus Operating Costs
---
Are You Concerned About the Environment? Please Read the Following
---
AMSOIL the Right Environmental Choice
Amsoil Preserving Our Environment
Synthetic Oils and the Environment
AMSOIL Pi Reduces Carbon Monoxide (CO) up to 26%
By-pass Filtration Systems Dramatically Extend Oil Drain Intervals
California to Bust 3,000 Mile Oil Myth
---
ExxonMobil Follows AMSOIL Into Extended Drain Market
Synthetics: The Auto Industries Best Kept Secret
Ten Myths About Synthetic Lubrication
AMSOIL, Inc. Product Chronology
North American Engine Oils May be Harmful to European Engines
Oil Color, Lubrication Ability and Contamination Level
The History of Engine Oil Filtration
---
Warranty Laws You Need to Know
---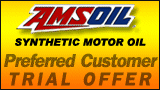 Comparative Motor Oil Test Results
AMSOIL Outperforms Valvoline Gear Lube
New White Paper - "A Study of Automotive Gear Lubes
Important Information: Converting to AMSOIL and Breaking in a New Engine
Easy Steps In Changing Automatic Transmission Fluid and Filters
Amsoil ATF Exceeds Ford Mercon V Oxidation Test
What to do when the Change Oil Light Comes On
40 Reasons for Oil Consumption
Amsoil Product Recommendations & Drain Interval Chart
Amsoil Motor Oil and Filter Guide
---
WIX Racing Oil, Air, and Fuel Filters
Red Line Oil vs. AMSOIL Racing Oil Wear Scar ASTM Test Results
Royal Purple Oil vs. AMSOIL Racing Oils Wear Scar ASTM Test Results
AMSOIL Checkered & Green Flag Racing Updates
---
---
Are Synthetics Really Too Expensive?
---
AMSOIL Distribution Center Locations
---
AGGRAND - Natural Lawn & Garden Products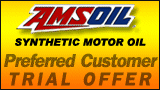 If you want to buy AMSOIL Products, visit the AMSOIL On-Line Store
AMSOIL Announces Absolute Efficiency Ea Air Filters (EaA) with Nanofiber Technology for Automotive and Light Truck Applications
AMSOIL INC. of Superior, WI announces the introduction of a new premium, high efficiency air filter utilizing nanofiber technology with a four year/100,000 mile service life guarantee and superior air flow. Positioning itself to be a world class leader in filtration, the AMSOIL Ea Filter is incomparable in both design and performance.
In lab testing Ea media with nanofibers removed 5 times more dust than the average cellulose filter and 50 times more dust than the average wet gauze media. Ea media also has 3 times the airflow of cellulose filters and is equal to wet gauze filters at the very low 0.5 inches of restriction. The proprietary Ea media held 15 times more dust than the average wet gauze type filter. In short, AMSOIL Ea Filters offer superior performance in the three critical performance benchmarks of efficiency, flow and capacity.
Fast Fact: A nanofiber is less than one micron in diameter. A human hair is 80 microns.


AMSOIL Ea
Nanofiber Filter Media


Cellulose

Traditional Cellulose Media

1000 x Scanning Electron Microscope Images

Red circles represent the diameter of a 2 micron and a 5 micron particle
What are the Benefits?
Extends service intervals through increased Capacity

Better Capacity than wet cotton gauze or cellulose

Offers a high level of engine protection though Efficiency

Better Efficiency than wet cotton gauze or cellulose

Highest Efficiency rating in the industry

Maintains high permeability or Flow through it life cycle

Advanced "Cleanable" properties and attributes (reusable)

Priced competitive with great income potential

100,000 mile AMSOIL guarantee / Extended Service Intervals

Cost effective / Reduced operation costs

Elimination of potential OEM warranty issues
About AMSOIL INC.
AMSOIL has been the recognized leader in synthetic lubrication and filtration since 1972. For more information about AMSOIL Ea Filters with Nanofiber Technology contact your nearest AMSOIL distributor.
AMSOIL EaA Air Filters
AMSOIL achieves Absolute Efficiency with new filter line.

The introduction of AMSOIL Ea Air Filters represents a major breakthrough in filtration technology. For the first time, revolutionary nanofiber technology is available to the auto/light truck market. It's another first for AMSOIL!

See Pricing Information or Place an Order
Nanofiber technology has been used exclusively in heavy duty applications, including the US ARMY Abrams M1 tank. AMSOIL has brought this technology to the auto/light truck market. AMSOIL Ea Air Filters provide the absolute best filtration and with an unmatched 4-year/100,000-mile guarantee, AMSOIL Ea Air Filters save money!

Revolutionary Technology
Nanofiber is a phrase generally referring to a fiber with a diameter less than one micron. Cellulose fibers, on the other hand, are larger than nanofibers and have larger spaces between the fibers, causing contaminants to load in the depth of the media and plug the airflow path, resulting in higher restriction and less capacity.

AMSOIL Ea Air filters incorporate a specially constructed cellulose media with exclusive synthetic nanofibers applied to the surface. Dust and submicron particles are trapped on the nanofiber surface, preventing them from lodging in the filter media depth.

Here's how it works: Imagine two filtration media, a chain link fence and a mosquito net. Each is required to stop contaminants, in this case tennis balls.

A tennis ball will fit quite nicely into an opening of a chain link fence, but will obstruct the hole almost 100 percent. Now, imagine a tennis ball covering a mosquito net. The tennis ball, at the point of contact with the netting, will obstruct much less filter area than the chain link fence example. In fact, air will flow around the tennis ball all the way to the point of contact. It will take many more particles to obstruct the netting surface area than the chain link fence.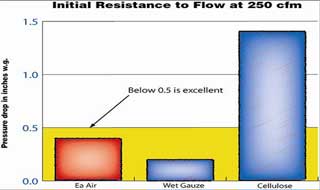 Above: AMSOIL Ea Air Filters have more than three times the airflow of cellulose. Both wet gauze and Ea are below 0.5 inches of initial restriction.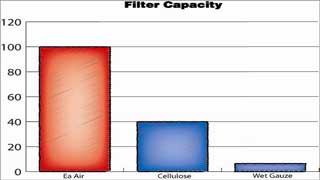 Above: AMSOIL Ea Air Filters hold 15 times more dust than a wet gauze type filter.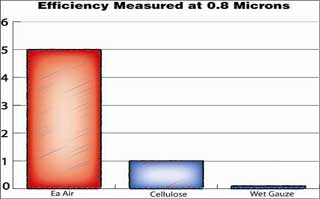 Above: AMSOIL Ea Air Filter media removes 5 times more dust than traditional cellulose filters and 50 times more dust than wet gauze.
Air Filter Basics
An engine needs air in order for combustion to occur, but the air drawn in through the induction system is loaded with contaminants. There are over 400 tons of suspended dirt and other contaminants in a cubic mile of air over a typical city. The concentration can be even higher in rural areas where there is frequent travel on unpaved roads. The dirt and contaminants drawn into an engine are the leading cause of engine wear.
The function of the air filter is to trap and hold these wear causing contaminants without restricting air flow. As the filter traps more and more contaminants, air flow becomes restricted, smothering the engine and diminishing performance. The more wear causing contaminants a filtration media traps and the more contaminants the filtration media holds, while still allowing optimum air flow, the better the filtration media is.
The new nanofiber technology used in AMSOIL Ea filters surpasses all other technology in efficiency, capacity and service life. With AMSOIL Ea Air Filters, dust and submicron particles remain on the surface and are trapped in the nanofibers, preventing particles from lodging in the filter media depth. This produces higher efficiency and higher capacity which extends engine and filter life and reduces engine wear.
Ea Air Filters Capture More Dirt
Efficiency is the ability of a filter to stop dirt and other airborne contaminants from entering the engine. The more efficient a filter is, the more dirt and contaminants
it stops. Extensive testing proves that AMSOIL Ea Air Filters are more efficient than cellulose and wet gauze air filters.
Allows More Air Flow
Proper air flow is vital to maximize performance and engine life. Air is required to release the energy from the fuel being used. It takes 1,200 cubic feet of air to combust one gallon of gasoline. Inadequate air flow can cause serious loss of power, poor performance and excessive fuel consumption. Tests show that AMSOIL Ea Air Filters have more than three times the airflow of filters that use cellulose media alone.
Holds More Dirt
A filter's ability to contain trapped contaminants determines how well an engine will run and how long the filter will remain effective. If the capacity is too low, the filter will have to be replaced constantly. When the filter is full, air cannot pass through at the rate necessary for proper engine performance.
AMSOIL Ea Air Filters hold up to five times more contaminants than cellulose air filters. Since the nanofibers in the media are so small there are more pores per square inch, allowing for higher dirt-holding capacity and lower pressure drop when compared to cellulose filter media alone. Thinner media fibers produce more uniform pore size distribution, improving the filter's overall quality and ability to capture and retain particles. Testing shows that Ea Air Filters hold 15 times more contaminants than a wet gauze type filter. The capacity is so great, in fact, that the new AMSOIL Ea Air Filters remain effective for a full 25,000 miles or one year before cleaning. This coincides with the AMSOIL 25,000-mile/one-year motor oil drain interval, adding even more convenience for motorists by consolidating routine maintenance.
Save Money With Ea Filters

Make

Type

Retail Cost

Number of changes/
cleanings based on 25,000 miles/year

Cost for
4 years

Cost per year

Purolator
cellulose
$23.75

2 changes

$190.00
$45.00
FRAM
cellulose
$24.95

2 changes

$199.60
$49.90
K&N
wet cotton gauze
$54.97

2 cleanings

$134.77*
$33.69
General Motors (OEM)
cellulose
$23.85

2 changes

$190.80
$45.20
AMSOIL Ea
nanofiber
$38.10

1 cleaning

$38.10
$9.53
* includes additional purchase of cleaning and oiling kits
Fact: More Cold Air = More Horsepower
AMSOIL's New Nanofiber Filters = High Performance and Protection
Ea Air Induction Filters
AMSOIL now offers universal air induction filters (EaAU) designed to replace stock oil wetted gauze or foam conical filters that were supplied with custom induction systems produced by K&N, Injen, S&B, Green, AIRAID, AFE, TrueFlow and more. AMSOIL Ea Air Induction Filters offer better efficiency, excellent airflow and are cleanable.
More Cold Air = More Horsepower
The basic purpose of the air intake system is to bring cool air from outside the engine compartment into the engine. The cooler air is denser than the air found within the hot engine compartment. The denser charge contains more oxygen than warmer air, providing better combustion through a more effective air/fuel mixture.
Another advantage of most specialty-equipment cold air intakes is their consistent diameters and the absence of sharp bends, both of which help to eliminate turbulence in the air stream.
Large and Growing Market
According to research done by the Specialty Equipment Market Association (SEMA), a new air intake system is among the first modifications a consumer makes to his or her vehicle. Since changing the air filter alone cannot eliminate air restriction built into the vehicle at the factory, replacing the factory air flow assembly includes replacing the filter, air box and air path. SEMA reports sales of air intakes are over 300,000 every year.
While intake kits were initially sold only for performance-type applications, they are now also being marketed and used as a way to boost fuel economy in SUVs, minivans, trucks and more.
AMSOIL EaAU
AMSOIL Ea Air Induction Filters fit most of the popular intake systems available. They provide improved cold air intake and a level of engine protection only an Ea Filter can provide. AMSOIL is currently offering nine Ea Air Induction Filters with varying lengths and widths. These filters have flange IDs of 3", 3.5", 4" and 4.5". Since these filters offer a universal fit, AMSOIL provides the dimension sheet below that customers can use to determine the proper filter for their applications.
Cleanable
AMSOIL Ea Air Induction Filters are cleanable and long lasting. AMSOIL recommends cleaning the Ea Air Induction Filter when designated by the restriction gauge if the vehicle is so equipped, or according to operating conditions. If it is used in extremely dusty environments or in a performance vehicle, more frequent cleanings may be required.
Unique Design
To increase filter surface area and the volume of air entering the engine, the top of the Ea Air Induction Filter is cut away. The media is inserted in a conical form pointing toward the direction of airflow.
Quality Construction
AMSOIL Ea Air Induction Filters are made from the same high-quality nanofiber media found in other AMSOIL Ea Air Filters. The nanofiber media is pleated with epoxy-coated wire on the face and back of the media for additional strength and stiffness. High quality, pliable urethane connectors with plastisol potting complete the product. Each Ea Air Induction Filter comes with a clamp for convenient installation.

AMSOIL#

Product Style

Flange
Type

Base
OD (in)

Flange
ID (in)

Flange
Length (in)

Media
Height (in)

Top
OD (in)

EaAU3570

Round Tapered

Center

4.625

3.50

0.625

7.0

3.5

EaAU4090

Round Tapered

Center

6.000

4.00

1.750

9.0

5.0

EaAU3050

Round Tapered

Center

6.000

3.00

1.750

5.0

5.0

EaAU3051

Round Tapered

Center

6.000

3.00

1.750

5.0

4.0

EaAU3590

Round Tapered

Center

6.000

3.50

1.750

9.0

5.0

EaAU4560

Round Tapered

Center

5.875

4.50

0.625

6.0

5.0

EaAU3090

Round Tapered

Center

6.000

3.00

1.750

9.0

5.0

EaAU3555

Round Tapered

Center

4.625

3.50

0.625

5.5

3.5

EaAU3560

Round Tapered

Center

6.000

3.50

1.750

6.0

5.0
AMSOIL Dealership and Preferred Customer Wholesale Pricing Information
· Minimal Dealership start-up fee ($15 for 6-months, $30 for 1-year)
· $10 for 6-months Preferred Customer Membership
· Premium Quality Product Line
· No inventory requirements or territory restrictions
· No capital investment
· No employee expenses or requirements
· You choose your level of time investment
· Excellent tax benefits
· Exclusive Dealership Internet Promotional Package to help you get started & keep you up to date.
· Expert assistance from your sponsor, a Lubrication Specialist and Race Car Builder/Fabricator with over 25 years experience.
Use the form below to get complete product/ technical and Dealership/Preferred Customer information and to find out how you can get a large discount on all your AMSOIL purchases while building a stable and solid business.