---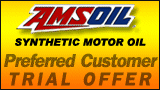 ---
Buy Wholesale
---
- NEW -
Amsoil Dealer ONLINE Registration the Fastest Way to Register
USA - Paper
Canada - Paper
Become an Amsoil Dealer and Buy at Wholesale Prices
Amsoil Preferred Customer Trial Offer Buy 25% Off Retail
Open a Commercial Business Account On-Line
Retail Accounts Sell AMSOIL in your Store or Shop
Amsoil Dealer Wholesale Price List
---
Request a Free Factory Catalog, Product & Technical Info
Toll Free 877-786-9582
---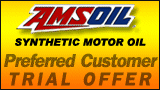 ---
Buy Now Online Store

To Order AMSOIL Products by Phone from Factory Call
7AM to 5PM Central Time
800-777-7094
Give the Operator
Reference # 1173195
---
Corporate Company, Products, and Opportunity Videos
---
Amsoil Snowmobile High Performance Oils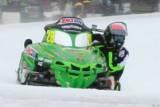 400,000 Miles of Snowmobile Testing - No Power Valve Sticking, Ring Sticking, & No Engine Failure!
A Look at Snowmobile Exhaust Power Valves
Amsoil Snowmobile Racing & Sponsorship
---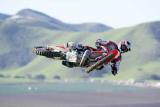 ---

Amsoil Motorcycle Synthetic Oils
AMSOIL Quality Impresses Harley Riders

AMSOIL Does not Void Harley Warranty
Why Harley Owners Choose AMSOIL Vs HD Oils
*NEW* EaO Synthetic Motorcycle Oil Filters Outperforms all other Cellulose and Synthetic Filters, Period
*NEW* EAA Synthetic Motorcycle Air Filters Surpasses all other Technology, Period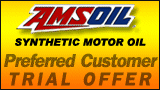 ---
Expert Advice For Your Vehicle
---
---

Amsoil Transmission Product Guide
---
Amsoil Turbo Diesel Pickup Truck Information Section
---
Ford Power Stroke 7.3 and 6.0 Turbo Diesels
Biodiesel Fuel and its effects on Engine Operation and Lubricant Service Life
*New* - Diesel Fuel Additive for Low Sulfur Fuel
Q/A - Why Change the Former AMSOIL Diesel Fuel Additive
EPA Has Mandated Changes for 2007 Diesel Engines
AMSOIL Diesel Oil for Model Year 2007 and Newer Heavy-Duty and Pickup Truck Diesel Engines
---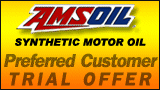 ---
Has the price of fuel got you down? We can help! Click on the following pages!
---
8.2% More MPG with AMSOIL Products
10 Ways to Help Reduce Our Dependency on Foreign Oil
AMSOIL Lubricants Save You Money
AMSOIL Reduces Operating Cost and Improves Efficiency
Amsoil Reduces Clark County Bus Operating Costs
---
Are You Concerned About the Environment? Please Read the Following
---
AMSOIL the Right Environmental Choice
Amsoil Preserving Our Environment
Synthetic Oils and the Environment
AMSOIL Pi Reduces Carbon Monoxide (CO) up to 26%
By-pass Filtration Systems Dramatically Extend Oil Drain Intervals
California to Bust 3,000 Mile Oil Myth
---
ExxonMobil Follows AMSOIL Into Extended Drain Market
Synthetics: The Auto Industries Best Kept Secret
Ten Myths About Synthetic Lubrication
AMSOIL, Inc. Product Chronology
North American Engine Oils May be Harmful to European Engines
Oil Color, Lubrication Ability and Contamination Level
The History of Engine Oil Filtration
---
Warranty Laws You Need to Know
---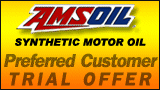 Comparative Motor Oil Test Results
AMSOIL Outperforms Valvoline Gear Lube
New White Paper - "A Study of Automotive Gear Lubes
Important Information: Converting to AMSOIL and Breaking in a New Engine
Easy Steps In Changing Automatic Transmission Fluid and Filters
Amsoil ATF Exceeds Ford Mercon V Oxidation Test
What to do when the Change Oil Light Comes On
40 Reasons for Oil Consumption
Amsoil Product Recommendations & Drain Interval Chart
Amsoil Motor Oil and Filter Guide
---
WIX Racing Oil, Air, and Fuel Filters
Red Line Oil vs. AMSOIL Racing Oil Wear Scar ASTM Test Results
Royal Purple Oil vs. AMSOIL Racing Oils Wear Scar ASTM Test Results
AMSOIL Checkered & Green Flag Racing Updates
---
---
Are Synthetics Really Too Expensive?
---
AMSOIL Distribution Center Locations
---
AGGRAND - Natural Lawn & Garden Products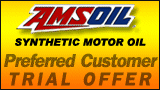 Premium Synthetic Lubricants Provide Superior Wear Protection and Keep Engines Running Cleaner
Something You Can Depend On
by Ed Newman
AMSOIL Director of Advertising
This article appeared in National Oil & Lube News, December 2007
Nearly everyone has traditions they maintain, whether it be going home for the holidays or celebrating fireworks on the Fourth of July. For some, Memorial Day weekend may mean sharing time with close friends at the cabin or a trip to that Mecca of racing memories called the Brickyard.
Industries have traditions, too. In the auto industry, there are compelling car shows that capture the imaginations of the motoring public. The Motor Trend Car of the Year is an annual phenomenon that gets a lot of attention. And when autumn leaves change their colors, 'tis the season for Consumer Reports to announce its findings regarding the world's most reliable (and unreliable) cars.
For half my lifetime it seems that Toyota has been the benchmark for reliability in an automobile. What a shocker, or delight depending on where you sit, when the 2007 selections were announced and GM's Buick was atop the list. For the record, Lexus, Cadillac, Mercury and Honda rounded out the top five.
Reliability Defined
When I think "reliability" certain words and images come to mind. For starters I think of dependability, something you can count on. For example, how many people would use crutches if there were a hinge in the middle and they had a habit of crumpling when you leaned on them? Or who would fly if there were a plane crash every three to five days? Never mind that most of them arrived safely. We really don't like making it to our destinations only "most of the time."
True, with automobiles there's less at stake if the engine dies or a wheel falls off. For most of us, however, a reliable car is one that we can count on to get us to the office every day, or to the store to pick up milk and groceries. And for Consumer Reports, this is the first aspect of reliability.
There is also a second. It's that nickel-and-dime stuff that you need to take care of as your vehicle falls victim to the second law of thermodynamics. Yes, things fall apart, but have you ever noticed how some cars seem to have a lot of those kinds of annoyances? Reliability, for Consumer Reports then, also encompasses this second category as well. Sure the car runs, but you almost wish it wouldn't as you deal with all those little things.
In short, this year's Most Reliable Car is better engineered than its peers so that it will not drive you crazy with broken gauges, door handles and hinges when you get it a little further down the road.
Reliability and Maintenance
Nevertheless, a critical component with regards to reliability includes what you do to take care of the vehicle. The oil change industry exists to take care of the routine maintenance that is necessary for these reliable cars to remain reliable. Without doubt, a less reliable car that is well maintained is often going to last longer than the most reliable cars where maintenance is neglected.
Oil and filter changes, keeping injectors and the fuel delivery systems clean, proper tire pressure, replacing worn belts – we all know these are all matters that cannot be ignored if we aim to have a vehicle that is faithful and true for 100,000, 200,000 or even 300,000 miles.
There is a sense in which this routine maintenance is really preventive maintenance. By taking care of our customers' vehicles, we are insuring that their vehicles will operate with the reliability they were designed for.
One of the best forms of preventive maintenance, of course, is to install synthetic lubricants throughout, from the engine and throughout the drive train. Premium synthetic lubricants provide superior wear protection and keep engines running cleaner, the way they were designed to run.
Oil change specialists with a dedicated customer base can serve their customers as a form of reliability maintenance engineer. Like maintenance professionals in other industries, you keep good records of services rendered and become a partner in the protection of the vehicles you service.
Maintenance engineers have a different way of looking at costs though. They know that their mandate is reliability. Downtime in a factory means lost profits. The goal is "no breakdowns" and the way they evaluate cost is not by looking at the purchase price, but rather at the Life Cycle Cost (LCC).
LCC is not something a lot of people practice because they are shortsighted, focusing on short term cost reductions rather than long term costs. By selling oil change services on price instead of value, on one time events rather than long term relationships, many fast lube facilities have hurt their bottom line. In point of fact, what customers need is not lowest prices but an alternate way of looking at how they do car maintenance. They need to be educated.
You will notice that all of the "most reliable cars" have higher price tags. Why? People are willing to pay a premium for reliability. Once they understand the benefits of synthetic motor oils and drive train fluids, they likewise have no problem paying a little extra for the benefits they bring. This is something you can depend on.
6 Month Amsoil Preferred Customer Trial Membership
Register now and save 25% off most AMSOIL Retail Prices
Click Here for the Registration Form
---
AMSOIL is the undisputed leader in synthetics......
Since 1972, AMSOIL Synthetics have proven to be the BEST. AMSOIL also engineers and manufactures Super Duty Oil filters which have a 25,000 mile service life as well as specialized filtration systems for commercial and fleet applications in cars and light, medium and heavy trucks which can filter particles down to less than one micron (a standard full flow oil filter can only filter to 20-25 microns with any degree of efficiency) making oil changes virtually unnecessary and virtually eliminating engine wear. These filters have been proven by millions of miles of over-the road trucks, construction equipment and fleet service.
· AMSOIL saves you time and money.
· The only 25,000 mile/one- year and 35,000/one- year motor oil in the world.
· Exceeds the most stringent performance specifications of all major U.S. and foreign automotive and truck manufacturers.
· Provides up to two-times the wear protection of other motor oils.
· Increases the life of your vehicle.
· Improves performance, fuel economy and efficiency.
· Diesel oil and filtration products designed to deliver 1,000,000 miles for over-the-road trucks before engine overhaul.
· Used by many national racing teams, fleets, police departments, construction firms and trucking companies.
Enhanced Synthetic Oil is comprised of a group of highly skilled team of Engineers and Lubrication and Filtration Specialists. You too, can join our group when you become an AMSOIL Dealer and take advantage of all that we offer as you use products in your own vehicles or begin your own AMSOIL business. You won't find a more knowledgeable and skilled group of Dealers anywhere which is very important when you need support as you build your business.

We offer FREE comprehensive product and technical information along with offering wholesale pricing Dealerships. We specialize in Amsoil business development training, internet marketing, business promotion, and sales programs.

We do not only run our business on the internet. We also have numerous commercial, industrial, trucking, excavating, construction, logging, police, racing and many more accounts that we support and service on a regular basis. We have several fully stocked warehouses and fully equipped shop facilities. This provides us with excellent knowledge of the products, equipment and the business and the ability to respond immediately to any of your needs. We will use this knowledge and experience to help you get started so you too can achieve your goals.

We possess the skills, desire and knowledge to answer questions, solve problems, improve efficiency, reduce downtime, maintenance costs and increase the durability and life of all of your vehicles.

Read what our satisfied customers have to say about us. Read through our website. Contact us with any questions. If you decide to become an AMSOIL Dealer you will be joining, in our opinion, the most skilled AMSOIL group there is. We will help you get started and provide you with the tools and information in order to be successful in this business or with technical and product assistance to use AMSOIL products in your own vehicles.
---
Options to Receive Information on Amsoil Lubricants and Filtration Products and the Amsoil Wholesale Purchasing Program
"We welcome the opportunity to work with you personally as your servicing AMSOIL Dealer."
Option 1 - The Best Option!
If you are serious about AMSOIL products and the business opportunity, this is the best option. You will receive extensive technical and business support from both myself and my AMSOIL Dealer Group. We look forward to helping you learn about AMSOIL. Also, we can help you set up a professional website to promote your AMSOIL Business. If you would like a comprehensive wholesale pricing, product, technical and business package sent to you just click the following link to our form: Request a Free Catalog & Info Packet
"FREE" Receive an AMSOIL Wholesale Packet, Product Data, Wholesale Price List, Dealer/Preferred Customer Application Form, and a Retail Catalog by Email.
Click Here for Your Free Packet!
Option 2 -
For a smaller, very general information package (which includes a catalog and Dealer application from Amsoil) you can request the information from any of the Amsoil links below.
To request a FREE Amsoil Factory Direct Catalog
For Information on Becoming an AMSOIL Dealer
To Buy AMSOIL Products in the AMSOIL On-Line Store
To Sell AMSOIL in Your Store or Purchase For Use in Your Businesses Equipment
To visit the AMSOIL Corporate Website for Product and Business Opportunity Information
AMSOIL is Proudly Made in the U.S.A.
About Us | Home | Contact Us | On-Line Store | Links | Privacy Policy | Site Map
Enhanced Synthetic Oil,
a Division of Racers Products, LLC
Kent Whiteman
Amsoil Regency Dealer
Ogden, Utah 84403
Phone Toll Free: 877-786-9582
Copyright© 2014 Enhanced Synthetic Oil a Division of Racers Products, LLC all Rights Reserved. No part of this authorized Amsoil Dealer website may be reproduced or distributed in any form or by means, or stored in a database or retrieval system, without validated prior written permission. Special undetectable methods are used that will identify any of this website material copied, reworded, rewritten, and published to the web.

Like us on Facebook