---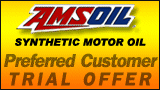 ---
Buy Wholesale
---
- NEW -
Amsoil Dealer ONLINE Registration the Fastest Way to Register
USA - Paper
Canada - Paper
Become an Amsoil Dealer and Buy at Wholesale Prices
Amsoil Preferred Customer Trial Offer Buy 25% Off Retail
Open a Commercial Business Account On-Line
Retail Accounts Sell AMSOIL in your Store or Shop
Amsoil Dealer Wholesale Price List
---
Request a Free Factory Catalog, Product & Technical Info
Toll Free 877-786-9582
---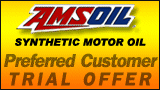 ---
Buy Now Online Store

To Order AMSOIL Products by Phone from Factory Call
7AM to 5PM Central Time
800-777-7094
Give the Operator
Reference # 1173195
---
Corporate Company, Products, and Opportunity Videos
---
Amsoil Snowmobile High Performance Oils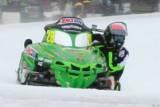 400,000 Miles of Snowmobile Testing - No Power Valve Sticking, Ring Sticking, & No Engine Failure!
A Look at Snowmobile Exhaust Power Valves
Amsoil Snowmobile Racing & Sponsorship
---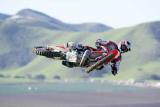 ---

Amsoil Motorcycle Synthetic Oils
AMSOIL Quality Impresses Harley Riders

AMSOIL Does not Void Harley Warranty
Why Harley Owners Choose AMSOIL Vs HD Oils
*NEW* EaO Synthetic Motorcycle Oil Filters Outperforms all other Cellulose and Synthetic Filters, Period
*NEW* EAA Synthetic Motorcycle Air Filters Surpasses all other Technology, Period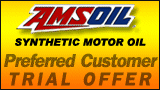 ---
Expert Advice For Your Vehicle
---
---

Amsoil Transmission Product Guide
---
Amsoil Turbo Diesel Pickup Truck Information Section
---
Ford Power Stroke 7.3 and 6.0 Turbo Diesels
Biodiesel Fuel and its effects on Engine Operation and Lubricant Service Life
*New* - Diesel Fuel Additive for Low Sulfur Fuel
Q/A - Why Change the Former AMSOIL Diesel Fuel Additive
EPA Has Mandated Changes for 2007 Diesel Engines
AMSOIL Diesel Oil for Model Year 2007 and Newer Heavy-Duty and Pickup Truck Diesel Engines
---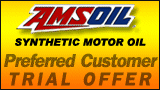 ---
Has the price of fuel got you down? We can help! Click on the following pages!
---
8.2% More MPG with AMSOIL Products
10 Ways to Help Reduce Our Dependency on Foreign Oil
AMSOIL Lubricants Save You Money
AMSOIL Reduces Operating Cost and Improves Efficiency
Amsoil Reduces Clark County Bus Operating Costs
---
Are You Concerned About the Environment? Please Read the Following
---
AMSOIL the Right Environmental Choice
Amsoil Preserving Our Environment
Synthetic Oils and the Environment
AMSOIL Pi Reduces Carbon Monoxide (CO) up to 26%
By-pass Filtration Systems Dramatically Extend Oil Drain Intervals
California to Bust 3,000 Mile Oil Myth
---
ExxonMobil Follows AMSOIL Into Extended Drain Market
Synthetics: The Auto Industries Best Kept Secret
Ten Myths About Synthetic Lubrication
AMSOIL, Inc. Product Chronology
North American Engine Oils May be Harmful to European Engines
Oil Color, Lubrication Ability and Contamination Level
The History of Engine Oil Filtration
---
Warranty Laws You Need to Know
---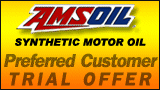 Comparative Motor Oil Test Results
AMSOIL Outperforms Valvoline Gear Lube
New White Paper - "A Study of Automotive Gear Lubes
Important Information: Converting to AMSOIL and Breaking in a New Engine
Easy Steps In Changing Automatic Transmission Fluid and Filters
Amsoil ATF Exceeds Ford Mercon V Oxidation Test
What to do when the Change Oil Light Comes On
40 Reasons for Oil Consumption
Amsoil Product Recommendations & Drain Interval Chart
Amsoil Motor Oil and Filter Guide
---
WIX Racing Oil, Air, and Fuel Filters
Red Line Oil vs. AMSOIL Racing Oil Wear Scar ASTM Test Results
Royal Purple Oil vs. AMSOIL Racing Oils Wear Scar ASTM Test Results
AMSOIL Checkered & Green Flag Racing Updates
---
---
Are Synthetics Really Too Expensive?
---
AMSOIL Distribution Center Locations
---
AGGRAND - Natural Lawn & Garden Products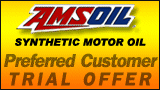 If you want to buy AMSOIL Products,
visit the AMSOIL On-Line Store
The information contained in this website is brought to you by Kent Whiteman an authorized full-time AMSOIL Premiere Direct Jobber.
As an AMSOIL Dealer, with one of the Largest AMSOIL Dealer Groups in the Nation, I work very closely with our Group of professionally trained and experienced truck/automotive engineers, professional heavy industrial repair and manufacturing experts, along with our certified lubrication specialists. Our fully committed AMSOIL Group has the knowledge, the energy, and the desire to assist and educate the AMSOIL Synthetic consumer in anyway we can.
Our goal is to recommend the exact products and systems that will provide the maximum performance and durability for your vehicle as well as save you time and money.
We welcome the opportunity to work with you in the selection of the best AMSOIL Products for your application, and/or to assist you in your AMSOIL Wholesale Dealership Business.
The Checkered Flag

December 1, 2006 Edition

GREEN FLAG

"Team AMSOIL Heading to Winter X Games"
New rider, Shaun Crapo, soars at AMSOIL Duluth National

Duluth, Minn. ~ The AMSOIL Duluth National is one of the biggest weekends in snocross racing each year. The annual event in Duluth, Minn. kicks off the snowmobile-racing season and Team AMSOIL usually finds success at its hometown race.

It was a mixed bag of success for the riders this past weekend. In the pro stock class, both DJ Eckstrom and his new teammate Shaun Crapo rode well during qualifying. Eckstrom had a pair of second place finishes and Crapo won two of his heats. But both riders found trouble in their third heat. Eckstrom was landed on by another rider while battling for the lead and was forced to pull off the racetrack. Crapo, meanwhile, was leading his second heat but caught the edge of the track and was unable to safely get back into the race. Both riders qualified for the final through the Last Chance Qualifier (LCQ), but had to start in the back row for the main event. In the final, both riders found good starts, but the tight holeshot and the short track made it difficult to pass into position. Crapo finished the race in tenth while Eckstrom finished one spot behind in 11th.

In the Pro Open, both riders found trouble with their sleds on Saturday. Eckstrom had a faulty carburetor and Crapo battled a bent deflector plate on the #3 machine. Eckstrom missed the final after going 6-5-15 in his heat races. Crapo did finish second in his first qualifying heat, but no better than fifth in the last two. He was able to make it into the final through the LCQ, but he was unable to finish in the top 10, ending up 11th when the checkered flag dropped on the 15-lap final.

Sunday was a better day of racing for the Scheuring Speed Sports team. The crew worked tirelessly all night to find the gremlins hiding inside the mod sleds. The hard work paid off as the riders tried to qualify for the 2007 Winter X Games. Crapo led the way for Team AMSOIL by winning all three of his heat races and was tabbed the top qualifier for the finals. Eckstrom was still dealing with sled issues, but was able to finish his final heat race with a win. In the final, Crapo battled up front all race long, eventually finishing in second and securing a spot in the X games. Eckstrom battled from the back row after a great start and was able to finish six spots higher than his qualifying position of 13th. Currently, his 7th place finish is keeping him out of the X games, but there are three more qualifying weekends left. The former silver medalist will try to qualify at Park X in Hill City, Minn. in two weeks.

The next WPSA national event for the AMSOIL/Scheuring Speed Sports team will be in Gaylord, Mich. on December 12, 2006. The AMSOIL Duluth National will air nationally on the Speed Channel on December 9, 2006 at 2 p.m. EST. A repeat airing will be on December 14 at 2 p.m. EST.


"Bauer Gets Going in Semi-Pro"
Team AMSOIL riders use experience to showcase skills at AMSOIL Duluth National

Duluth, Minn. ~ Team AMSOIL riders Mike Bauer and Kristen Liermoe used the experience they gained against stronger competition last year to come storming out of the gates on the WPSA tour this year.

At the AMSOIL Duluth National, semi-pro rider Mike Bauer showed the move up in classes last year was important to his development. The Arctic Cat rider out of Duluth, Minn. ran both the stock and open classes in semi-pro and was one of the faster riders all weekend long. In the stock class, Bauer won his first heat race and finished the next two with a second and a fifth, respectively. In the final, he found his best finish in the class with a fourth. In the open class, the young rider went 5-3-3 and was able to finish ninth in the final.

Liermoe continues to grow in the women's class. The young rider out of southern Wisconsin is part of the PMK Performance team and is riding in the women's stock class this year. After finishing eighth in her first heat race, Liermoe bounced back for two-second place finishes. She advanced to the final and finished sixth.

Both riders will be racing at the WPSA National in Gaylord on December 12, 2006.


"Arenacross Teams Find Podiums Again"
Lange continues winning ways with podium trifecta

Yakima, Wash. ~ AMSOIL is getting a strong showing from Team Babbitt's in the BooKoo Arenacross Series this winter. New rider Darcy Lange is quickly running away with the series points race after only three rounds of racing.

In Yakima, Wash. just before Thanksgiving, Lange showed exceptional speed on the difficult track. On Friday night, Lange grabbed a pair of podiums. In the 250 class, Lange delivered the fastest lap time of the main event and was able to finish in second. In the 450 class, Lange again delivered in front of the near capacity crowd. He started in fourth, but was able to navigate through the traffic to take an early lead, holding on for the win.

On Saturday, Lange again got out front early and led the field for most of the 250 race and delivered an incredible performance for the win. In the 450 main, Lange had a battle on his hands with Tyler Bowers for 13 laps. A bobble by Lange gave the win to Bowers and Lange settled in for a sixth place finish behind teammate Jeff Northrup.

After three rounds of racing, Lange is leading both classes in points. In the 250 class, he has a 31-point lead over second and in the 450 class he has an 11-point lead over Tyler Bowers. In the overall championship standings, Lange has a 56-point lead over second. Northrup is currently in third in the 250 class and third in the overall standings. Team Babbitt's will be racing at the next round of the BooKoo Arenacross series on December 29 in Fort Worth, Texas.

"Team AMSOIL Battles For Points Race in AMA AX"
Johnson, Schnell within reach after three rounds

Reno, Nev. ~ The first three races of the Toyota Arenacross Series have come to an end and AMSOIL sponsored riders Chad Johnson and Greg Schnell are in the championship mix. The pair of Junior Jackson Racing riders are still in the top 10 after the recent races in Reno, Nevada.

Defending series champion Chad Johnson just missed the podium at the November 17-18 event in Reno. On Friday night, Johnson pushed his Suzuki to a fourth place finish in the Arenacross class. He followed that up with a sixth place finish on Saturday night. Schnell, meanwhile, finished 11th on Friday, but improved to eighth on Saturday. Currently, Johnson is second overall in the series and Schnell is sixth overall, just 12 points behind Johnson.

Rookie rider and teammate Ryan Poulter finished sixth on Saturday in the Arenacross Lites class, but did not make the main on Friday night. Poulter is ninth in the AX Lites West class.

Junior Jackson Racing will be off from racing until after the New Year. The team will be racing again on January 5-6 in Charlotte, N.C. They will also be racing the East Coast Supercross series starting in February.
AMSOIL is the undisputed leader in synthetics......
Since 1972, AMSOIL Synthetics have proven to be the BEST. AMSOIL also engineers and manufactures Super Duty Oil filters which have a 25,000 mile service life as well as specialized filtration systems for commercial and fleet applications in cars and light, medium and heavy trucks which can filter particles down to less than one micron (a standard full flow oil filter can only filter to 20-25 microns with any degree of efficiency) making oil changes virtually unnecessary and virtually eliminating engine wear. These filters have been proven by millions of miles of over-the road trucks, construction equipment and fleet service.
· AMSOIL saves you time and money.
· The only 25,000 mile/one- year and 35,000/one- year motor oil in the world.
· Exceeds the most stringent performance specifications of all major U.S. and foreign automotive and truck manufacturers.
· Provides up to two-times the wear protection of other motor oils.
· Increases the life of your vehicle.
· Improves performance, fuel economy and efficiency.
· Diesel oil and filtration products designed to deliver 1,000,000 miles for over-the-road trucks before engine overhaul.
· Used by many national racing teams, fleets, police departments, construction firms and trucking companies.

Enhanced Synthetic Oil is comprised of a group of highly skilled team of Engineers and Lubrication and Filtration Specialists. You too, can join our group when you become an AMSOIL Dealer and take advantage of all that we offer as you use products in your own vehicles or begin your own AMSOIL business. You won't find a more knowledgeable and skilled group of Dealers anywhere which is very important when you need support as you build your business.

In addition, as a Dealer in our group you will receive exclusive unlimited product, technical and business support from the only group of Truck and Automotive Engineers and Lubrication Specialists on the net.

We do not only run our business on the internet. We also have numerous commercial, industrial, trucking, excavating, construction, logging, police, racing and many more accounts that we support and service on a regular basis. We have several fully stocked warehouses and fully equipped shop facilities. This provides us with excellent knowledge of the products, equipment and the business and the ability to respond immediately to any of your needs. We will use this knowledge and experience to help you get started so you too can achieve your goals.

We possess the skills, desire and knowledge to answer questions, solve problems, improve efficiency, reduce downtime, maintenance costs and increase the durability and life of all of your vehicles.

Read what our satisfied customers have to say about us. Read through our website. Contact us with any questions. If you decide to become an AMSOIL Dealer you will be joining, in our opinion, the most skilled AMSOIL group there is. We will help you get started and provide you with the tools and information in order to be successful in this business or with technical and product assistance to use AMSOIL products in your own vehicles.

We offer several options to receive information on AMSOIL. We welcome the opportunity to work with you personally as your servicing AMSOIL Dealer.

Please, email us at kent@enhancedsyntheticoil.com and we will send you an exclusive comprehensive package of product, technical and business information. If you are serious about AMSOIL products and the business opportunity this is the best option. You will receive extensive technical and business support from both myself and my AMSOIL Dealer Group. We look forward to helping you learn about AMSOIL. Also, we can help you set up a website to promote your AMSOIL Business.

OR - for a smaller, very general information package (which includes a catalog and Dealer application) you can request information via any of the links below.
To request a FREE Factory Direct Catalog
For Information on Becoming an AMSOIL Dealer
To Buy AMSOIL Products in the AMSOIL On-Line Store
To Sell AMSOIL in Your Store or Purchase For Use in Your Businesses Equipment
To visit the AMSOIL Corporate Website for Product and Business Opportunity Information
AMSOIL is Proudly Made in the U.S.A.
AMSOIL is America's Oil.
Home | Contact Us | On-Line Store | Links | Privacy Policy | Site Map |
Enhanced Synthetic Oil, a Division of
Racers Products, LLC
Kent Whiteman
Ogden, Utah 84403
Phone Toll Free: 877-786-9582
Email: kent@enhancedsyntheticoil.com
---
Copyright 2003-2006 Enhanced Synthetic Oil a Division of RACERS PRODUCTS, LLC All Rights Reserved. No part of this website may be reproduced or distributed in any form or by means, or stored in a database or retrieval system, without prior written permission. Special undetectable methods are used that will identify any of this material copied, reworded/re-written and published to the web.