---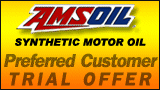 ---
Buy Wholesale
---
- NEW -
Amsoil Dealer ONLINE Registration the Fastest Way to Register
USA - Paper
Canada - Paper
Become an Amsoil Dealer and Buy at Wholesale Prices
Amsoil Preferred Customer Trial Offer Buy 25% Off Retail
Open a Commercial Business Account On-Line
Retail Accounts Sell AMSOIL in your Store or Shop
Amsoil Dealer Wholesale Price List
---
Request a Free Factory Catalog, Product & Technical Info
Toll Free 877-786-9582
---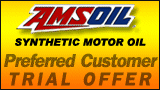 ---
Buy Now Online Store

To Order AMSOIL Products by Phone from Factory Call
7AM to 5PM Central Time
800-777-7094
Give the Operator
Reference # 1173195
---
Corporate Company, Products, and Opportunity Videos
---
Amsoil Snowmobile High Performance Oils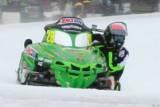 400,000 Miles of Snowmobile Testing - No Power Valve Sticking, Ring Sticking, & No Engine Failure!
A Look at Snowmobile Exhaust Power Valves
Amsoil Snowmobile Racing & Sponsorship
---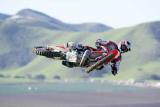 ---

Amsoil Motorcycle Synthetic Oils
AMSOIL Quality Impresses Harley Riders

AMSOIL Does not Void Harley Warranty
Why Harley Owners Choose AMSOIL Vs HD Oils
*NEW* EaO Synthetic Motorcycle Oil Filters Outperforms all other Cellulose and Synthetic Filters, Period
*NEW* EAA Synthetic Motorcycle Air Filters Surpasses all other Technology, Period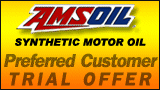 ---
Expert Advice For Your Vehicle
---
---

Amsoil Transmission Product Guide
---
Amsoil Turbo Diesel Pickup Truck Information Section
---
Ford Power Stroke 7.3 and 6.0 Turbo Diesels
Biodiesel Fuel and its effects on Engine Operation and Lubricant Service Life
*New* - Diesel Fuel Additive for Low Sulfur Fuel
Q/A - Why Change the Former AMSOIL Diesel Fuel Additive
EPA Has Mandated Changes for 2007 Diesel Engines
AMSOIL Diesel Oil for Model Year 2007 and Newer Heavy-Duty and Pickup Truck Diesel Engines
---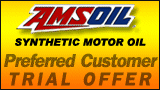 ---
Has the price of fuel got you down? We can help! Click on the following pages!
---
8.2% More MPG with AMSOIL Products
10 Ways to Help Reduce Our Dependency on Foreign Oil
AMSOIL Lubricants Save You Money
AMSOIL Reduces Operating Cost and Improves Efficiency
Amsoil Reduces Clark County Bus Operating Costs
---
Are You Concerned About the Environment? Please Read the Following
---
AMSOIL the Right Environmental Choice
Amsoil Preserving Our Environment
Synthetic Oils and the Environment
AMSOIL Pi Reduces Carbon Monoxide (CO) up to 26%
By-pass Filtration Systems Dramatically Extend Oil Drain Intervals
California to Bust 3,000 Mile Oil Myth
---
ExxonMobil Follows AMSOIL Into Extended Drain Market
Synthetics: The Auto Industries Best Kept Secret
Ten Myths About Synthetic Lubrication
AMSOIL, Inc. Product Chronology
North American Engine Oils May be Harmful to European Engines
Oil Color, Lubrication Ability and Contamination Level
The History of Engine Oil Filtration
---
Warranty Laws You Need to Know
---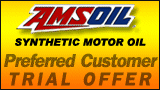 Comparative Motor Oil Test Results
AMSOIL Outperforms Valvoline Gear Lube
New White Paper - "A Study of Automotive Gear Lubes
Important Information: Converting to AMSOIL and Breaking in a New Engine
Easy Steps In Changing Automatic Transmission Fluid and Filters
Amsoil ATF Exceeds Ford Mercon V Oxidation Test
What to do when the Change Oil Light Comes On
40 Reasons for Oil Consumption
Amsoil Product Recommendations & Drain Interval Chart
Amsoil Motor Oil and Filter Guide
---
WIX Racing Oil, Air, and Fuel Filters
Red Line Oil vs. AMSOIL Racing Oil Wear Scar ASTM Test Results
Royal Purple Oil vs. AMSOIL Racing Oils Wear Scar ASTM Test Results
AMSOIL Checkered & Green Flag Racing Updates
---
---
Are Synthetics Really Too Expensive?
---
AMSOIL Distribution Center Locations
---
AGGRAND - Natural Lawn & Garden Products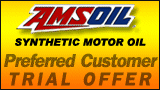 If you want to buy AMSOIL Products, visit the AMSOIL On-Line Store
A Study of Compressor Oils, AMSOIL's Industrial Whitepaper:
The purpose of this paper is to inform consumers about the performance and cost differences between compressor oils, including OEM branded and popular aftermarket products. These evaluations will provide consumers the confidence in which to purchase high-quality compressor oil at the lowest possible price.
Click on the link to review the AMSOIL Whitepaper: https://www.amsoil.com/products/industrial/whitepaper7.pdf
SIROCCO™ Synthetic Compressor Oil
(ISO 32/46)
AMSOIL SE Series Synthetic Ester Compressor Oils/Coolants are formulated with premium synthetic ester technology. These high quality, long life fluids last several times longer in use than mineral-based oils. AMSOIL SE Series Synthetic Ester Compressor Oils/Coolants are fully formulated with non-detergent additives and are designed for use in rotary screw, vane and reciprocating compressors. SE Series Synthetic Ester Compressor Oils/Coolants increase operating efficiency, reducing money spent on energy, repair and maintenance costs.

See Pricing Information or Place an Order

Package sizes include:

5-Gallon Pail
55-Gallon Drum
AMSOIL SE Series Synthetic Ester Compressor Oils/Coolants maintain performance across a wide operating temperature range. The low pour points, high viscosity indices and lack of paraffins (wax) make these excellent all season lubricants. At high temperatures, SE Series Synthetic Ester Compressor Oils/Coolants form virtually no carbon, allowing for clean operation. At cold temperatures, equipment starts easier and the lubricant is quickly pumped to critical components, preventing lubricant starvation and excessive wear. SE Series Synthetic Ester Compressor Oils/Coolants also resist water to prevent damaging oil/water emulsions, allowing for longer lubricant life and ease of water removal from the sump.
PERFORMANCE FEATURES
Resists foaming

Rust and oxidation inhibited

Readily separates from water

Recommended for use in rotary screw and reciprocating compressors

Long-life/extended drain performance

Compatible with polyglycol fluids such as Sullube 32® and Ingersoll-Rand SSR Ultra-coolant®

SEI is biodegradable under the CEC-L33-A94 standard
SAFETY ADVANTAGE
AMSOIL SE Series Synthetic Ester Compressor Oils/Coolants have higher flash, fire and auto ignition points than competitive petroleum oils. Their resistance to carbon formation and the ashless additive system minimize the incidence of deposits acting as ignition-promoting hot spots. Although AMSOIL SE Series increase fire safety, they cannot be considered non-flammable.

APPLICATION RECOMMENDATION
AMSOIL SEI is a multi-viscosity oil meeting the requirements of 5W-20. It may be used in applications calling for either an ISO-32 or ISO-46 compressor oil or coolant. It is recommended for use in single and multi-stage rotary screw compressors and vacuum pumps that call for this viscosity.

When installing AMSOIL SEI, it is recommended that the old oil be thoroughly drained and if warranted, the system cleaned. If a lot of carbon or residue is found on the internal compressor parts, follow the manufacturer's recommendations for removal prior to installing the new oil. AMSOIL SE Series Synthetic Ester Compressor Oils/Coolants have a high level of solvency and may remove deposits left in the system. Check the filters and oil/air separators regularly for the first 500 hours of operation and replace as necessary.

AMSOIL SEI is compatible with and recommended as a replacement for much higher priced polyalkylene glycol (PAG) compressor oils or coolants such as Sullube 32® and Ingersoll Rand SSR Ultra Coolant®. No flushing is necessary when changing over from Glycol Coolants to AMSOIL SEI. However, draining the system and changing the filters is recommended.

AMSOIL SEI is recommended for use up to 8,000+ hours for most compressor applications. However, this is subject to operating conditions and maintenance practices.* Monitoring by oil analysis every 1,000 hours is recommended.

* Where discharge temperature exceeds 205°F, lubricant life expectancy is reduced.

COMPATIBILITY
AMSOIL SEI is compatible with petroleum oils, most synthetic oils*, and many seals, paints and materials commonly used in compressors. Materials recommended and not recommended for use with SEI oils/coolants are listed below. For additional information, see the AMSOIL Compatibility Guide (G-1274) or consult your AMSOIL Dealer or AMSOIL INC.

*AMSOIL SE Series is NOT RECOMMENDED as a replacement or for use with the silicone based compressor oil Sullube 24KT®. AMSOIL SE Series is NOT RECOMMENDED for use in "Breathing Air or Refrigeration" compressors.

RECOMMENDED
Seals - Viton®, High Nitrile Buna N (>36%), Teflon®
Paints - Epoxy, Oil-Resistant Alkyd, Two-Part Urethane
Plastics - Nylon, Delrin®, Celcon®, PBT
NOT RECOMMENDED
Seals - Neoprene, SBR Rubber, Low Nitrile Buna N
Paints - Acrylic Paint, Lacquer
Plastics - Polystyrene, Polycarbonate Plastic, PVC, ABS
NOTE: Process gasses suitable for use with the SE Series:
Nitrogen, hydrogen, helium, carbon monixide, carbon dioxide (dry), ethylene, methane, propane, butane, propylene, butylene, natural gas, benzene, butadiene, furnace (crack gas), hydrogen sulfide (dry), sulfur hexafluoride, synthetic gas, sulfur dioxide.
AMSOIL PRODUCT AVAILABILITY
AMSOIL SE Series is available in 5-gallon pails, 55-gallon drums, 275-gallon totes, and bulk quantities. For 275-gallon totes, please allow two to four weeks for delivery.
Sullube 32® and Sullube 24KT® are trademarks of the Sullair Corporation. Ingersoll-Rand SSR Ultra-Coolant® is a trademark of Ingersoll-Rand, Inc.
TYPICAL TECHNICAL PROPERTIES

SE SERIES Synthetic Ester Oils/Coolants (SEI)

SEI

ISO Viscosity Grade ASTM D-2422
32/46
Viscosity 100° C, cSt ASTM D-445
6.68
Viscosity 40° C, cSt ASTM D-445
40.22
Viscosity Index ASTM D-2270
123
API Gravity ASTM D-287
15.30
Specific Gravity g/ml ASTM D-1298
0.9639
Density (lb/gal) ASTM D-1298
8.027
Flash Point, °C (°F) ASTM D-92
272 (522)
Fire Point, °C (°F) ASTM D-92
306 (583)
Pour Point, °C (°F) ASTM D-97
-43 (-45)
NOACK Volatility, % Weight Loss DIN 51581
1.40%
4-Ball Wear Para 1 in mm ASTM D-4172
0.50
Biodegradable
YES
| | |
| --- | --- |
| | PC Series Synthetic Compressor Oils |
Copyright© 2014 Enhanced Synthetic Oil a Division of Racers Products, LLC all Rights Reserved. No part of this authorized Amsoil Dealer website may be reproduced or distributed in any form or by means, or stored in a database or retrieval system, without validated prior written permission. Special undetectable methods are used that will identify any of this website material copied, reworded, rewritten, and published to the web.

Like us on Facebook