---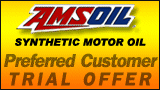 ---
Buy Wholesale
---
- NEW -
Amsoil Dealer ONLINE Registration the Fastest Way to Register
USA - Paper
Canada - Paper
Become an Amsoil Dealer and Buy at Wholesale Prices
Amsoil Preferred Customer Trial Offer Buy 25% Off Retail
Open a Commercial Business Account On-Line
Retail Accounts Sell AMSOIL in your Store or Shop
Amsoil Dealer Wholesale Price List
---
Request a Free Factory Catalog, Product & Technical Info
Toll Free 877-786-9582
---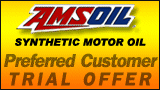 ---
Buy Now Online Store

To Order AMSOIL Products by Phone from Factory Call
7AM to 5PM Central Time
800-777-7094
Give the Operator
Reference # 1173195
---
Corporate Company, Products, and Opportunity Videos
---
Amsoil Snowmobile High Performance Oils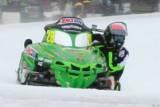 400,000 Miles of Snowmobile Testing - No Power Valve Sticking, Ring Sticking, & No Engine Failure!
A Look at Snowmobile Exhaust Power Valves
Amsoil Snowmobile Racing & Sponsorship
---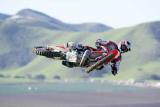 ---

Amsoil Motorcycle Synthetic Oils
AMSOIL Quality Impresses Harley Riders

AMSOIL Does not Void Harley Warranty
Why Harley Owners Choose AMSOIL Vs HD Oils
*NEW* EaO Synthetic Motorcycle Oil Filters Outperforms all other Cellulose and Synthetic Filters, Period
*NEW* EAA Synthetic Motorcycle Air Filters Surpasses all other Technology, Period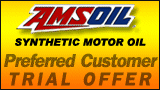 ---
Expert Advice For Your Vehicle
---
---

Amsoil Transmission Product Guide
---
Amsoil Turbo Diesel Pickup Truck Information Section
---
Ford Power Stroke 7.3 and 6.0 Turbo Diesels
Biodiesel Fuel and its effects on Engine Operation and Lubricant Service Life
*New* - Diesel Fuel Additive for Low Sulfur Fuel
Q/A - Why Change the Former AMSOIL Diesel Fuel Additive
EPA Has Mandated Changes for 2007 Diesel Engines
AMSOIL Diesel Oil for Model Year 2007 and Newer Heavy-Duty and Pickup Truck Diesel Engines
---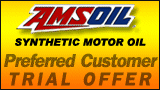 ---
Has the price of fuel got you down? We can help! Click on the following pages!
---
8.2% More MPG with AMSOIL Products
10 Ways to Help Reduce Our Dependency on Foreign Oil
AMSOIL Lubricants Save You Money
AMSOIL Reduces Operating Cost and Improves Efficiency
Amsoil Reduces Clark County Bus Operating Costs
---
Are You Concerned About the Environment? Please Read the Following
---
AMSOIL the Right Environmental Choice
Amsoil Preserving Our Environment
Synthetic Oils and the Environment
AMSOIL Pi Reduces Carbon Monoxide (CO) up to 26%
By-pass Filtration Systems Dramatically Extend Oil Drain Intervals
California to Bust 3,000 Mile Oil Myth
---
ExxonMobil Follows AMSOIL Into Extended Drain Market
Synthetics: The Auto Industries Best Kept Secret
Ten Myths About Synthetic Lubrication
AMSOIL, Inc. Product Chronology
North American Engine Oils May be Harmful to European Engines
Oil Color, Lubrication Ability and Contamination Level
The History of Engine Oil Filtration
---
Warranty Laws You Need to Know
---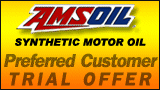 Comparative Motor Oil Test Results
AMSOIL Outperforms Valvoline Gear Lube
New White Paper - "A Study of Automotive Gear Lubes
Important Information: Converting to AMSOIL and Breaking in a New Engine
Easy Steps In Changing Automatic Transmission Fluid and Filters
Amsoil ATF Exceeds Ford Mercon V Oxidation Test
What to do when the Change Oil Light Comes On
40 Reasons for Oil Consumption
Amsoil Product Recommendations & Drain Interval Chart
Amsoil Motor Oil and Filter Guide
---
WIX Racing Oil, Air, and Fuel Filters
Red Line Oil vs. AMSOIL Racing Oil Wear Scar ASTM Test Results
Royal Purple Oil vs. AMSOIL Racing Oils Wear Scar ASTM Test Results
AMSOIL Checkered & Green Flag Racing Updates
---
---
Are Synthetics Really Too Expensive?
---
AMSOIL Distribution Center Locations
---
AGGRAND - Natural Lawn & Garden Products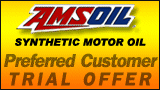 AMSOIL Synthetic Lubricants are proudly made in the U.S.A.
One Day in the Life of a Dirt Particle
by Ed Newman
Marketing & Advertising Manager, AMSOIL INC.

When it comes to motor oil and engine maintenance, filters play a significant role. There are all kinds of filters on a passenger car these days, including the fuel filter, air filter, transmission filter, breather element filter and oil filter. Wouldn't it be great if one could write about filters from the unique perspective inside the filter itself?

As luck would have it, while preparing this column I had a rare opportunity to interview a talking dirt particle by the name of Dirtamus Silicapoulis. Not often is one afforded a first person account regarding what actually happens inside an engine. I share with you here portions of our discussion. Mr. Silicapoulis, or "Tiny" (as he prefers to be called), asked that I not reveal his address or phone because of the damage he has done and he doesn't want his past to come back to haunt him.

How much experience have you had destroying car engines? Well, personally, I have only been involved with vandalizing one car engine. But I come from a very large family, and my kin have been destroying engines for decades.

What do dirt particles do on a typical day? Mostly you'll just find us hanging out, suspended in air somewhere. Dirt particles are generally a fairly passive lot. We go with the flow, as they say. Wherever the wind blows that's where you'll find us. Believe it or not, there's over 400 tons of dust and grit hovering in a cubic mile of air in a typical city. We're talking, for the most part, about things you really can't see with the naked eye. We're not talking nuts and bolts, birds and small children. You can't see us, but wherever there's air, we're there.

Can you tell us about the day you ended up inside an engine? Tell us, Tiny, how did it happen? It was your typical hot summer day. I was minding my own biz, basking in the sun, floating along when suddenly, whoosh, I was swept by an air current into an intake manifold. Swallowed alive! Did you know that engines suck in as much as 1200 cubic feet of air to properly burn one gallon of fuel? The internal combustion engine is really nothing more than a big air pump. It inhales a tremendous amount of air.

I didn't know that. But how did you get past the air filter? Air filters have a challenging job because they must balance two functions that are at odds with each other. Their first function is to stop dirt particles like me. Their second is to allow airflow into the combustion chamber. If they stop too much dirt, they can inadvertently restrict airflow. If they allow unrestricted airflow, they'll be guilty of allowing too much dirt to pass. You can see the problem.

Are you saying air filters don't work? Not at all. They do a fairly good job for most airborne debris, but they have their limitations. Remember, they don't call me Tiny for nothing. Most air filters have a paper media, though there are also cotton gauze and foam filters. I've heard there's an oiled foam filter that works sort of like flypaper. Fortunately, my encounter was with a more porous paper filter and, being small as I am, I slipped on through.

How big are you? You mean how small? When I last measured myself I was somewhere around fifteen microns. About a sixth the width of a human hair. (ed note: human hair has a width of 100 microns.)

So what happened next? Gasoline that is squirted into the combustion chamber mixes with the air and airborne particles, including sand, salt and other minerals, which is then compressed by the piston and ignited. Boom! That ignition blast sets off a real shockwave effect. Most of the leftover air and debris gets swept out through the exhaust port. But my experience was different.

Somehow I got wedged between the piston and the cylinder wall. I later learned that most dirt particles in this engine came in that way, though some enter through vents.

Next thing I know, I begin grinding down alongside the piston, scratching, gouging, clawing as I am drawn down, down, down into the dark heart of the beast. Had I been smaller, I could have slipped right past, even though these are very small clearances. Had I been larger I would have been captured by the air filter. As it was, it was highly traumatic for both myself and that cylinder wall, piston and rings.

Do all dirt particles that pass the filter work their way into the engine like you? The dirt particles that enter into the combustion chamber, the majority of them pass right through to the exhaust port and out the exhaust pipe. It's a thrill for the dirt particle, but no big deal for the engine.

Those like me that come into contact with the moving parts within the chamber can get wedged between the piston and the cylinder walls. And in that area, the presence of the dirt will result in wear, both on the piston rings and the cylinder wall itself. Down a little farther, we cause wear on the piston itself. Eventually, as we move further down we're released into the crankcase area of the engine, where the oil reservoir is. We will mix with the oil, and the oil will pick up this contaminant, this abrasive material, and circulate it throughout the engine.

Who else did you see inside that engine? You might be surprised at the gang of vandals I found in that engine. First, there's the leftover debris from when the engine was made: casting materials, machining swarf, polishing compounds, even lint. It's a hostile crowd and it brings out the worst in a dirt particle like me. Then there's all those wear metals, the rebel non-conformists who followed me as I was clawing my way down along that cylinder wall. Some of the metal in that cylinder wall was scratched free. Dirt particles like me bring out the worst in an engine. Finally, there are exhaust gases, soot, acids and moisture. These can enter the engine via combustion blowby and cause corrosion or lubricant breakdown.

Before the interview you mentioned an interesting experience you had inside the oil filter. Can you elaborate? Oil filters can be dangerous for dirt particles because, well, you know, once you're trapped inside an oil filter it's all over. Fortunately for me, oil filters are not very effective for particles smaller than 20 microns.

This was my first time inside an engine. I'd heard some real horror stories about oil filters and was quite frightened as I began circulating through the engine. Suddenly I found myself in the canister. Here and there I could see clusters of particles all scattered about. They seemed to be shouting something as I rushed by but I couldn't hear what they were saying over the roar of the engine. Next thing I was squeezed through the filter media, past the anti-drainback valve and it was too late. My 15 micron size allowed me to pass on through the media and continue on my journey.

A little later, as I was carried through the camshaft region I asked another silica particle what to make of it. He didn't know either, but he said we'd be passing through the bearings and on to the filter again before long and we could try to circulate a little closer next time.

Sure enough, before long we were back inside the filter canister where I discovered they were iron and other metallic particles and they were not having a party. They were shouting for help. They had been captured!

Are you saying that oil filters don't do much good against dirt either? Not at all. Oil filters do, however, have their limitations. Again, it is the old trade off between restricting too much, and allowing too much unrestricted oil flow. Of course, there are by-pass filters that effectively eliminate particles smaller than me. That, my friend, is a subject I don't want to get into.

CONCLUSIONS? Simply this: Auto experts agree that dirt is the number one cause of engine wear. Oil filters and air filters play a critical role in preserving engine life. For lube shops they are a logical source of add-on sales, always in the customer's best interest.


AMSOIL is the undisputed leader in synthetics......
Since 1972, AMSOIL Synthetics have proven to be the BEST. AMSOIL also engineers and manufactures Super Duty Oil filters which have a 25,000 mile service life as well as specialized filtration systems for commercial and fleet applications in cars and light, medium and heavy trucks which can filter particles down to less than one micron (a standard full flow oil filter can only filter to 20-25 microns with any degree of efficiency) making oil changes virtually unnecessary and virtually eliminating engine wear. These filters have been proven by millions of miles of over-the road trucks, construction equipment and fleet service.
· AMSOIL saves you time and money.
· The only 25,000 mile/one- year and 35,000/one- year motor oil in the world.
· Exceeds the most stringent performance specifications of all major U.S. and foreign automotive and truck manufacturers.
· Provides up to two-times the wear protection of other motor oils.
· Increases the life of your vehicle.
· Improves performance, fuel economy and efficiency.
· Diesel oil and filtration products designed to deliver 1,000,000 miles for over-the-road trucks before engine overhaul.
· Used by many national racing teams, fleets, police departments, construction firms and trucking companies.
Enhanced Synthetic Oil is comprised of a group of highly skilled team of Engineers and Lubrication and Filtration Specialists. You too, can join our group when you become an AMSOIL Dealer and take advantage of all that we offer as you use products in your own vehicles or begin your own AMSOIL business. You won't find a more knowledgeable and skilled group of Dealers anywhere which is very important when you need support as you build your business.

In addition, as a Dealer in our group you will receive exclusive unlimited product, technical and business support from the only group of Truck and Automotive Engineers and Lubrication Specialists on the net.

We do not only run our business on the internet. We also have numerous commercial, industrial, trucking, excavating, construction, logging, police, racing and many more accounts that we support and service on a regular basis. We have several fully stocked warehouses and fully equipped shop facilities. This provides us with excellent knowledge of the products, equipment and the business and the ability to respond immediately to any of your needs. We will use this knowledge and experience to help you get started so you too can achieve your goals.

We possess the skills, desire and knowledge to answer questions, solve problems, improve efficiency, reduce downtime, maintenance costs and increase the durability and life of all of your vehicles.

Read what our satisfied customers have to say about us. Read through our website. Contact us with any questions. If you decide to become an AMSOIL Dealer you will be joining, in our opinion, the most skilled AMSOIL group there is. We will help you get started and provide you with the tools and information in order to be successful in this business or with technical and product assistance to use AMSOIL products in your own vehicles.
We offer several options to receive information on AMSOIL. We welcome the opportunity to work with you personally as your servicing AMSOIL Dealer.
Option 1 - The best option
If you are serious about AMSOIL products and the business opportunity this is the best option. You will receive extensive technical and business support from both myself and my AMSOIL Dealer Group. We look forward to helping you learn about AMSOIL. Also, we can help you set up a website to promote your AMSOIL Business. If you would like a comprehensive wholesale pricing, product, technical and business package sent to you just click the following link to our form:
Click here: Free Catalog and Information Packet
Option 2 -
Email us at kent@enhancedsyntheticoil.com and we will send you an exclusive comprehensive package of product, technical and business information.

Option 3 -
For a smaller, very general information package (which includes a catalog and Dealer application) you can request information via any of the links below.
To request a FREE Factory Direct Catalog
For Information on Becoming an AMSOIL Dealer
To Buy AMSOIL Products in the AMSOIL On-Line Store
To Sell AMSOIL in Your Store or Purchase For Use in Your Businesses Equipment
To visit the AMSOIL Corporate Website for Product and Business Opportunity Information
AMSOIL is Proudly Made in the U.S.A.
AMSOIL is America's Oil.
Home | Contact Us | On-Line Store | Links | Privacy Policy | Site Map |
Enhanced Synthetic Oil, a Division of
Racers Products, LLC
Kent Whiteman
Ogden, Utah 84403
Phone Toll Free: 877-786-9582
Email: kent@enhancedsyntheticoil.com
---
Copyright 2003-2007 Enhanced Synthetic Oil a Division of RACERS PRODUCTS, LLC All Rights Reserved. No part of this website may be reproduced or distributed in any form or by means, or stored in a database or retrieval system, without prior written permission. Special undetectable methods are used that will identify any of this material copied, reworded/re-written and published to the web.