---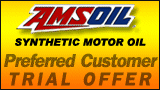 ---
Buy Wholesale
---
- NEW -
Amsoil Dealer ONLINE Registration the Fastest Way to Register
USA - Paper
Canada - Paper
Become an Amsoil Dealer and Buy at Wholesale Prices
Amsoil Preferred Customer Trial Offer Buy 25% Off Retail
Open a Commercial Business Account On-Line
Retail Accounts Sell AMSOIL in your Store or Shop
Amsoil Dealer Wholesale Price List
---
Request a Free Factory Catalog, Product & Technical Info
Toll Free 877-786-9582
---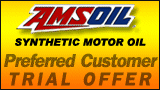 ---
Buy Now Online Store

To Order AMSOIL Products by Phone from Factory Call
7AM to 5PM Central Time
800-777-7094
Give the Operator
Reference # 1173195
---
Corporate Company, Products, and Opportunity Videos
---
Amsoil Snowmobile High Performance Oils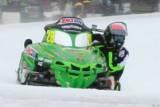 400,000 Miles of Snowmobile Testing - No Power Valve Sticking, Ring Sticking, & No Engine Failure!
A Look at Snowmobile Exhaust Power Valves
Amsoil Snowmobile Racing & Sponsorship
---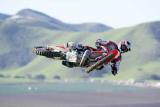 ---

Amsoil Motorcycle Synthetic Oils
AMSOIL Quality Impresses Harley Riders

AMSOIL Does not Void Harley Warranty
Why Harley Owners Choose AMSOIL Vs HD Oils
*NEW* EaO Synthetic Motorcycle Oil Filters Outperforms all other Cellulose and Synthetic Filters, Period
*NEW* EAA Synthetic Motorcycle Air Filters Surpasses all other Technology, Period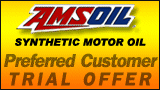 ---
Expert Advice For Your Vehicle
---
---

Amsoil Transmission Product Guide
---
Amsoil Turbo Diesel Pickup Truck Information Section
---
Ford Power Stroke 7.3 and 6.0 Turbo Diesels
Biodiesel Fuel and its effects on Engine Operation and Lubricant Service Life
*New* - Diesel Fuel Additive for Low Sulfur Fuel
Q/A - Why Change the Former AMSOIL Diesel Fuel Additive
EPA Has Mandated Changes for 2007 Diesel Engines
AMSOIL Diesel Oil for Model Year 2007 and Newer Heavy-Duty and Pickup Truck Diesel Engines
---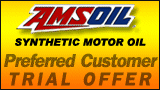 ---
Has the price of fuel got you down? We can help! Click on the following pages!
---
8.2% More MPG with AMSOIL Products
10 Ways to Help Reduce Our Dependency on Foreign Oil
AMSOIL Lubricants Save You Money
AMSOIL Reduces Operating Cost and Improves Efficiency
Amsoil Reduces Clark County Bus Operating Costs
---
Are You Concerned About the Environment? Please Read the Following
---
AMSOIL the Right Environmental Choice
Amsoil Preserving Our Environment
Synthetic Oils and the Environment
AMSOIL Pi Reduces Carbon Monoxide (CO) up to 26%
By-pass Filtration Systems Dramatically Extend Oil Drain Intervals
California to Bust 3,000 Mile Oil Myth
---
ExxonMobil Follows AMSOIL Into Extended Drain Market
Synthetics: The Auto Industries Best Kept Secret
Ten Myths About Synthetic Lubrication
AMSOIL, Inc. Product Chronology
North American Engine Oils May be Harmful to European Engines
Oil Color, Lubrication Ability and Contamination Level
The History of Engine Oil Filtration
---
Warranty Laws You Need to Know
---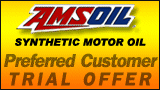 Comparative Motor Oil Test Results
AMSOIL Outperforms Valvoline Gear Lube
New White Paper - "A Study of Automotive Gear Lubes
Important Information: Converting to AMSOIL and Breaking in a New Engine
Easy Steps In Changing Automatic Transmission Fluid and Filters
Amsoil ATF Exceeds Ford Mercon V Oxidation Test
What to do when the Change Oil Light Comes On
40 Reasons for Oil Consumption
Amsoil Product Recommendations & Drain Interval Chart
Amsoil Motor Oil and Filter Guide
---
WIX Racing Oil, Air, and Fuel Filters
Red Line Oil vs. AMSOIL Racing Oil Wear Scar ASTM Test Results
Royal Purple Oil vs. AMSOIL Racing Oils Wear Scar ASTM Test Results
AMSOIL Checkered & Green Flag Racing Updates
---
---
Are Synthetics Really Too Expensive?
---
AMSOIL Distribution Center Locations
---
AGGRAND - Natural Lawn & Garden Products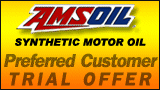 World's Fastest Diesel Motorcycles Rely on AMSOIL Lubricants
Fred Hayes currently holds eight world and four national land speed records on motorcycles. This month he'll try to better those records and add another -- all on diesel-powered bikes. Fred Hayes is an experienced motorcycle rider, earning top honors in several American motorcycle riding competitions through the years. In 2003, Hayes was awarded a platinum medal at the UK National Rally, the competition's highest award. Since then Hayes has ridden two HDT USA diesel motorcycles to the first recognized land speed records for diesel motorcycles at the salt flats of Bonneville, Utah. Hayes' experience with motorcycles goes far beyond competition, though. He has been with Hayes Diversified Technologies (HDT USA) since the company's beginning in 1961 and has led the company to become the largest supplier of military motorcycles to the U.S. Defense Department. Hayes is HDT's president, C.E.O. and chief engineer. In addition, Hayes was a primary consultant to the Motorcycle Safety Foundation and the U.S. Marine Corps during the development of the Marine Corps' Military Motorcycle Operator Training Course and still holds credentials as a Military Motorcycle Chief Instructor. In short, Hayes knows motorcycles. He builds them and rides them, and does both in a superior fashion.
Hayes Diversified Technologies HDT USA develops and manufactures motorcycles for the U.S. Defense Department. The company is known for its advanced technology, superior engineering and revolutionary motorcycle design, but HDT began as something totally different. Throughout the 1960's and 1970's, HDT specialized in the development and manufacture of electro-mechanical switches and relays for defense and aerospace. The company was the original equipment manufacturer (OEM) for major defense companies like Lockheed, Boeing, Control Data and Unisys. In 1970, HDT expanded into commercial motorcycle sales, selling and racing PENTON Sport Cycles under the trade name METTCO. From 1976 through 1979, HDT was employed as a consulting firm to Honda's off-road racing and enduro teams. HDT produced suspension components and provided two-stroke engine performance modifications for Honda from 1977 through 1979. In 1981, HDT used its unique combination of expertise in government contracting and off-road motorcycle development to place the winning bid to produce tactical military motorcycles for the U.S. Army. Since then, HDT USA has been awarded more than 45 contracts, resulting in over 2500 military motorcycles being delivered to the U.S. and allied military forces. HDT's M1030B1 Marine Corps motorcycle is known as the best performing, most reliable tactical military motorcycle now in service with any military organization, beating out competitive motorcycles from BMW and KTM.
"Single Battlefield Fuel" In 1984, all NATO military forces adopted a long-term goal of employing a single battlefield fuel to reduce the logistics burden of supplying gasoline, diesel, aviation gasoline and aviation kerosene. Years later, the U.S. Navy announced they would not supply or transport gasoline in any form, only heavy fuels such as diesel and jet fuel. The only equipment still operating on gas was small field generator sets and motorcycles. The military approached several motorcycle manufacturers to determine what options were available as alternatives to gas-powered bikes. All of these manufacturers claimed that a diesel-fueled motorcycle was neither commercially practical, cost effective, nor, in some cases, even possible given the performance requirements. After requesting proposals from all interested sources, the U.S. Marine Corps found the answer at HDT USA. In May 2001, HDT unveiled the first motorcycle powered by a diesel engine that was designed specifically for motorcycles. The Search for a More Durable Oil Because HDT motorcycles are made for the military, their engines and the oil that protects them must withstand much more rigorous testing and use than the average bike. "The military does not perform a civilian-type break-in, that's not how they use their vehicles," said Hayes. These motorcycles are operated in every kind of severe condition imaginable, from the ice and cold of mountainous regions to the sand and heat of the Iraqi desert. They run hard, and breaking down in the heat of battle should be the last thing on a soldier's mind. These severe conditions dictate that the oil be able to flow readily in sub-zero temperatures to quickly lubricate moving parts, yet stay viscous enough to cool and protect in extreme heat.
HDT was servicing their motorcycles with Mobil Delvac 1 5W-40 and using Mobil 0W-30 racing oil for their race engines. Mobil's 0W-30 is not diesel-rated or recommended for motorcycle wet-clutch applications. "We have seen for several years that our engines 'like' the lighter oils, especially during initial run-in," said Hayes. "This has been especially evident when we look at camshaft and rod bearings after a new engine has been run very hard with no run-in." HDT had been using Mobil 1 for three years, finding it was superior to conventional diesel oil, but they were having problems with blow-by. Impressive Results Hayes said HDT was drawn to AMSOIL because of the availability of AMSOIL 0W-20 Synthetic Motor Oil and Series 3000 5W-30 Heavy Duty Diesel Oil. "We noticed an increase in horsepower right away as compared to Delvac 1," said Hayes. "But what was quite surprising was the condition of an engine after a 50-mile run-in and over 120 full-throttle dyno runs. The camshaft bearings, the small and large end rod bearing didn't even look like they had been run. During that series of dyno runs, we registered the highest horsepower and torque readings ever." Hayes said their testing proved that AMSOIL Series 3000 5W-30 Heavy Duty Diesel Oil provided better cam bearing lubrication, better transmission operation and less blow-by than their previous oil. "We picked up just over one horsepower at the rear wheel," he said. "In addition, it appears that overall coolant temperature was down about five degrees." Hayes said AMSOIL provides superior performance in the two areas that matter to him most: horsepower and lubrication, especially in new engines. At start-up, the exhaust cams are the last components the oil reaches. Because the military doesn't break-in their vehicles like civilians do, and they typically don't have time to allow a warm-up period, it is vital that the engine oil is able to flow immediately. For this reason, HDT takes their engines straight to dyno with no break-in, and they are run wide open." The lubrication to the exhaust cams was really good," said Hayes. "They looked beautiful."
Commercially Available Motorcycles HDT USA is working on development of commercially available motorcycles, tentatively scheduled for release by early 2008. The company is so impressed with AMSOIL that these motorcycles will come factory-filled with AMSOIL synthetic lubricants. This quote from HDT's website sums up their experience with AMSOIL: "With over a year of testing, we have found that AMSOIL products continually outperform all other lubricants. AMSOIL provides improved performance, increased fuel economy, lower oil consumption and significantly reduced engine wear in all operating conditions." New World Records This month, Hayes will attempt to better his previous world and national land speed records at the BUB speed trials in Bonneville, Utah. Hayes set the AMA land speed record for diesel motorcycles at 91.277 mph on an HDT motorcycle in 2004. His eight world and four national records are in the modified production class of diesel motorcycles. This year he hopes to add a fifth national record in the production diesel class. Hayes said participating in events such as these not only bodes well for HDT products, but helps with development and research. Research and experiences from the Bonneville events relate directly to HDT production bikes. In fact, Hayes said HDT has improved power output by over 20 percent due to their racing efforts. This year they are doing fuel economy tests on the way to the competition and back in an attempt to achieve more than 100 miles-per-gallon.
Options to Receive Information on Amsoil Lubricants and Filtration Products and the Wholesale Purchasing Program
We welcome the opportunity to work with you personally as your servicing AMSOIL Dealer.
Option 1 - The best option
If you are serious about AMSOIL products and the business opportunity, this is the best option. You will receive extensive technical and business support from both myself and my AMSOIL Dealer Group. We look forward to helping you learn about AMSOIL. Also, we can help you set up a professional website to promote your AMSOIL Business. If you would like a comprehensive wholesale pricing, product, technical and business package sent to you just click the following link to our form:
Request a Free Catalog & Info Packet
Option 2 -
Email us at kent@enhancedsyntheticoil.com and we will send you an exclusive comprehensive package of Amsoil product, technical and business information.

Option 3 -
For a smaller, very general Amsoil information package (which includes a catalog and Dealer application from Amsoil) you can request the information from any of the links below.
To request a FREE Amsoil Factory Direct Catalog
For Information on Becoming an AMSOIL Dealer
To Buy AMSOIL Products in the AMSOIL On-Line Store
To Sell AMSOIL in Your Store or Purchase For Use in Your Businesses Equipment
To visit the AMSOIL Corporate Website for Product and Business Opportunity Information
AMSOIL is Proudly Made in the U.S.A.
About Us | Home | Contact Us | On-Line Store | Links | Privacy Policy | Site Map
Enhanced Synthetic Oil,
a Division of Racers Products, LLC
Kent Whiteman
Amsoil Regency Dealer
Ogden, Utah 84403
Phone Toll Free: 877-786-9582
Email: kent@enhancedsyntheticoil.com
Copyright© 2014 Enhanced Synthetic Oil a Division of Racers Products, LLC all Rights Reserved. No part of this authorized Amsoil Dealer website may be reproduced or distributed in any form or by means, or stored in a database or retrieval system, without validated prior written permission. Special undetectable methods are used that will identify any of this website material copied, reworded, rewritten, and published to the web.

Like us on Facebook