---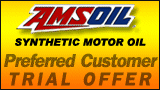 ---
Buy Wholesale
---
- NEW -
Amsoil Dealer ONLINE Registration the Fastest Way to Register
USA - Paper
Canada - Paper
Become an Amsoil Dealer and Buy at Wholesale Prices
Amsoil Preferred Customer Trial Offer Buy 25% Off Retail
Open a Commercial Business Account On-Line
Retail Accounts Sell AMSOIL in your Store or Shop
Amsoil Dealer Wholesale Price List
---
Request a Free Factory Catalog, Product & Technical Info
Toll Free 877-786-9582
---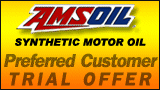 ---
Buy Now Online Store

To Order AMSOIL Products by Phone from Factory Call
7AM to 5PM Central Time
800-777-7094
Give the Operator
Reference # 1173195
---
Corporate Company, Products, and Opportunity Videos
---
Amsoil Snowmobile High Performance Oils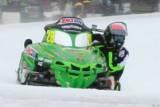 400,000 Miles of Snowmobile Testing - No Power Valve Sticking, Ring Sticking, & No Engine Failure!
A Look at Snowmobile Exhaust Power Valves
Amsoil Snowmobile Racing & Sponsorship
---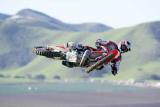 ---

Amsoil Motorcycle Synthetic Oils
AMSOIL Quality Impresses Harley Riders

AMSOIL Does not Void Harley Warranty
Why Harley Owners Choose AMSOIL Vs HD Oils
*NEW* EaO Synthetic Motorcycle Oil Filters Outperforms all other Cellulose and Synthetic Filters, Period
*NEW* EAA Synthetic Motorcycle Air Filters Surpasses all other Technology, Period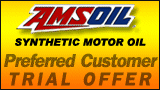 ---
Expert Advice For Your Vehicle
---
---

Amsoil Transmission Product Guide
---
Amsoil Turbo Diesel Pickup Truck Information Section
---
Ford Power Stroke 7.3 and 6.0 Turbo Diesels
Biodiesel Fuel and its effects on Engine Operation and Lubricant Service Life
*New* - Diesel Fuel Additive for Low Sulfur Fuel
Q/A - Why Change the Former AMSOIL Diesel Fuel Additive
EPA Has Mandated Changes for 2007 Diesel Engines
AMSOIL Diesel Oil for Model Year 2007 and Newer Heavy-Duty and Pickup Truck Diesel Engines
---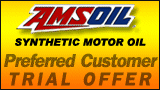 ---
Has the price of fuel got you down? We can help! Click on the following pages!
---
8.2% More MPG with AMSOIL Products
10 Ways to Help Reduce Our Dependency on Foreign Oil
AMSOIL Lubricants Save You Money
AMSOIL Reduces Operating Cost and Improves Efficiency
Amsoil Reduces Clark County Bus Operating Costs
---
Are You Concerned About the Environment? Please Read the Following
---
AMSOIL the Right Environmental Choice
Amsoil Preserving Our Environment
Synthetic Oils and the Environment
AMSOIL Pi Reduces Carbon Monoxide (CO) up to 26%
By-pass Filtration Systems Dramatically Extend Oil Drain Intervals
California to Bust 3,000 Mile Oil Myth
---
ExxonMobil Follows AMSOIL Into Extended Drain Market
Synthetics: The Auto Industries Best Kept Secret
Ten Myths About Synthetic Lubrication
AMSOIL, Inc. Product Chronology
North American Engine Oils May be Harmful to European Engines
Oil Color, Lubrication Ability and Contamination Level
The History of Engine Oil Filtration
---
Warranty Laws You Need to Know
---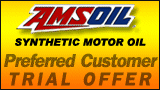 Comparative Motor Oil Test Results
AMSOIL Outperforms Valvoline Gear Lube
New White Paper - "A Study of Automotive Gear Lubes
Important Information: Converting to AMSOIL and Breaking in a New Engine
Easy Steps In Changing Automatic Transmission Fluid and Filters
Amsoil ATF Exceeds Ford Mercon V Oxidation Test
What to do when the Change Oil Light Comes On
40 Reasons for Oil Consumption
Amsoil Product Recommendations & Drain Interval Chart
Amsoil Motor Oil and Filter Guide
---
WIX Racing Oil, Air, and Fuel Filters
Red Line Oil vs. AMSOIL Racing Oil Wear Scar ASTM Test Results
Royal Purple Oil vs. AMSOIL Racing Oils Wear Scar ASTM Test Results
AMSOIL Checkered & Green Flag Racing Updates
---
---
Are Synthetics Really Too Expensive?
---
AMSOIL Distribution Center Locations
---
AGGRAND - Natural Lawn & Garden Products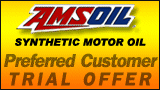 AMSOIL Synthetic Lubricants are proudly made in the U.S.A.
The information contained in this website is brought to you by Kent Whiteman an authorized full-time AMSOIL Premiere Direct Jobber of Automotive and Industrial synthetic lubrication products.
As an AMSOIL Dealer, with one of the Largest AMSOIL Dealer Groups in the Nation, I work very closely with our Group of professionally trained and experienced truck/automotive engineers, professional heavy industrial repair and manufacturing experts, along with our certified lubrication specialists. Our fully committed AMSOIL Group has the knowledge, the energy, and the desire to assist and educate the AMSOIL Synthetic consumer in anyway we can.
Our goal is to recommend the exact AMSOIL products and systems that will provide the maximum performance and durability for your vehicle as well as save you time and money.
We welcome the opportunity to work with you in the selection of the best AMSOIL Products for your application, and/or to assist you in your AMSOIL Wholesale Dealership Business.
AMSOIL Dealer,
Kent Whiteman
---
You can purchase AMSOIL products at retail prices by going to the
Want to save 25% off the AMSOIL retail prices?
Become a Preferred Customer
Want to save 25% off the AMSOIL retail prices, run AMSOIL as a business, and be eligible to receive commission checks?
Become a Dealer
Since we are fulltime Amsoil Dealers with over 40 years experience in the lubricants and automotive industries, we can offer the very best insight, services, and assistance to Preferred Customers and Dealers that register through this website. Please contact us for more information.
---
"…the stand-out to us appears to be the AMSOIL,"
writes Fast Fours and Rotaries of their ten oil test.
---
Oils against Oils
A shoot out of a different kind:
Major oil brands go head-to-head on the dyno and in the lab.
---
---
Test Procedure

FFR chose to test only high quality synthetic oils. High quality synthetics are each oil makers' top product and high quality synthetics are "most relevant" to performance enthusiasts. The testers ran the individual oils through a "short yet grueling" dynamometer session followed by professional oil analysis.

Sam Blumenstein, of COME Racing, performed the dyno testing on his SuperFlow engine dynamometer using a mildly modified five liter V8. Bill Reid, of Lubrication Management, performed the oil analyses. Ryco supplied oil filters.

After establishing baseline performance using a mineral oil, the test team subjected the test oils to three timed sessions at high engine loads, between each of which were three full-power runs.

"The intent," says FFR, "was to establish a number of criteria. Firstly, whether any of the oils would improve horsepower; whether any of the products would lose viscosity; evaluate [the] ability (or lack thereof) to prematurely wear components or suffer from discoloration. As it turned out, discoloration didn't prove to be a factor.

"We approached ten oil suppliers/manufacturers, informing them of our intention, and all were reasonably keen and eager to be involved, although Pennzoil didn't want to commit and Penrite flat out said no – a little strange given this company has actually advertised with and for this [performance] market."
---
The oil probe is placed in a solution to free it of all oil, leaving behind just the raw wear particles. Once the magnet is clean, a piece of cellophane tape is applied to stick any metal particles for analysis either on a contrasting background or under a microscope.
---
Viscosity Test

FFR first subjected the oils to a test of viscosity retention. "Note," writes FFR , "that being such a short test it was felt that none of the oils would lose any of its viscosity rating, and indeed six oils suffered an inconsequential loss of less than one percent." The other five, Torco MPZ , Shell Helix Ultra , Shell Helix Plus , Hi-Tec HTO and Castrol R suffered significant viscosity losses
AMSOIL Series 2000 Synthetic 20W-50 Racing Oil
NO VISCOSITY LOSS REPORTED
Oil

Product

Viscosity Loss

Type

Test #

Torco

MPZ

18%

Synthetic

5 & 6

Shell

Helix Ultra

14%

Synthetic

8

Shell

Helix Plus

12%

Petroleum

1

Hi-Tec

HTO

8%

Synthetic

9

Castrol

R

6%

Synthetic

12

FFR points out that the loss of viscosity suffered by the five oils was very rapid. "Under normal conditions it's suggested oil which loses viscosity this quickly would be subject to significant losses over 5000 km [8045 miles]. Indeed, one would be suspect of the potential for increased wear over this period."
---
Wear Metal Test

Oils inhibit wear by inhibiting metal to metal contact of engine parts. To test the individual oil's ability to protect parts from contact and wear, FFR subjected the individual oils to a test of wear metal generation. Their test "indicates the size and number of wear particles of each oil tested. The higher the rating the greater number and size of wear particles," writes FFR.
AMSOIL Series 2000 Synthetic 20W-50 Racing Oil had the
LOWEST WEAR METAL GENERATION
| | | | | |
| --- | --- | --- | --- | --- |
| Rating | Oil | Average particle size | Overall (micron) | Test # |
| #1 | Amsoil Series 2000 | 5-10 micron | 5-50 micron | 10 |
| #2 | Hi-Tec HTO | 15-20 micron | 10-60 micron | 9 |
| #3 | BP Visco 5000 | 15-20 micron | 15-60 micron | 4 |
| #4 | Shell Helix Ultra | 15-25 micron | 15-60 micron | 8 |
| #5 | Shell Helix Plus | 10-20 micron | 15-50 Micron | 1 |
| #6 | Mobil 1 5W-50 | 20-25 micron | 15-60 micron | 3 |
| #7 | Mobile 1 OW-40 | 15-20 micron | 15-50 micron | 11 |
| #8 | Castrol R | 20-30 micron | 15-100 Micron | 12 |
| #9 | Torco | 15-20 micron | 15-100 Micron | 5 & 6 |
| #10 | Royal Purple | 15-20 micron | 15-100 Micron | 7 |
| #11 | Castrol SLX | 20-25 micron | 15-100 Micron | 2 |
---
Horsepower

FFR averaged three runs per oil, noting power figures at 500 rpm increments between 3000 and 5000 rpm and noting peak power and torque. While the engine FFR used for testing was a large tolerance engine for which a 20W-50 grade oil is ideal, some of the oil manufacturers supplied 0W-30 grade oils for testing. The low grade viscosity oils delivered somewhat greater horsepower than the high grade oils did, but as FFR notes, "around 4000 rpm the power produced is very similar across the range and it's only really the top end where there are substantial differences. That said, the AMSOIL [20W-50], Castrol R [10W-60] and Mobil 5W-50 prove themselves very well."
---
CONCLUSION

<![if !vml]>

<![endif]>

"Although we've provided criteria to pick and choose an oil, the stand-out to us appears to be the AMSOIL, rating well in the viscosity and producing good horsepower.

"With the variety of grades, use this test as a guide but always follow the manufacturer's recommendation. But if we were to stick our neck out in anticipation of the lawsuits, from the information we gathered specific to the supplied oils in the test, we'd rate the oils in the following order:

1) AMSOIL

2) BP Visco 5000

3) Mobil 1

4) Mobil 1 (difference being price)

5) Hi-Tec HTO

6) Shell Helix Ultra

7) Royal Purple

8) Castrol R

9) Castrol SLX

10) Torco"

AMSOIL Automotive Applications
A few people who have read the synthetic oil comparison and dyno-test have asked why Redline was not included. The dyno-test and comparison was done by Fast Fours and Rotaries magazine and not by AMSOIL. They chose the oils to compare and I'm not sure why Redline was not included.
So for additional comparison info, we have included the following chart with the most recent results of the 4-Ball Wear Test for AMSOIL Synthetic 20W-50 (TRO) and Redline 20W-50.
AMSOIL Synthetic 20W-50 (TRO) outperforms Redline 20W-50 in the 4-Ball Wear Test.
The 4-Ball Wear Test is a good indication of the wear protection provided by an oil under severe conditions. The smaller the wear scar, the better the protection.
Four-Ball Wear Test (ASTM D4172)
60 kg pressure @ 150°C, 1800 RPM, 1 hour

As Tested February, 2002

Oil Tested

Wear Scar

AMSOIL Series 2000 20W-50 (TRO)

.44 mm

Redline 20W-50

.73 mm
6 Month Amsoil Preferred Customer Trial Membership
Register now and save 25% off most AMSOIL Retail Prices
Click Here for the Registration Form
---
AMSOIL is the undisputed leader in synthetics......
Since 1972, AMSOIL Synthetics have proven to be the BEST. AMSOIL also engineers and manufactures Super Duty Oil filters which have a 25,000 mile service life as well as specialized filtration systems for commercial and fleet applications in cars and light, medium and heavy trucks which can filter particles down to less than one micron (a standard full flow oil filter can only filter to 20-25 microns with any degree of efficiency) making oil changes virtually unnecessary and virtually eliminating engine wear. These filters have been proven by millions of miles of over-the road trucks, construction equipment and fleet service.
· AMSOIL saves you time and money.
· The only 25,000 mile/one- year and 35,000/one- year motor oil in the world.
· Exceeds the most stringent performance specifications of all major U.S. and foreign automotive and truck manufacturers.
· Provides up to two-times the wear protection of other motor oils.
· Increases the life of your vehicle.
· Improves performance, fuel economy and efficiency.
· Diesel oil and filtration products designed to deliver 1,000,000 miles for over-the-road trucks before engine overhaul.
· Used by many national racing teams, fleets, police departments, construction firms and trucking companies.
Enhanced Synthetic Oil is comprised of a group of highly skilled team of Engineers and Lubrication and Filtration Specialists. You too, can join our group when you become an AMSOIL Dealer and take advantage of all that we offer as you use products in your own vehicles or begin your own AMSOIL business. You won't find a more knowledgeable and skilled group of Dealers anywhere which is very important when you need support as you build your business.

In addition, as a Dealer in our group you will receive exclusive unlimited product, technical and business support from the only group of Truck and Automotive Engineers and Lubrication Specialists on the net.

We do not only run our business on the internet. We also have numerous commercial, industrial, trucking, excavating, construction, logging, police, racing and many more accounts that we support and service on a regular basis. We have several fully stocked warehouses and fully equipped shop facilities. This provides us with excellent knowledge of the products, equipment and the business and the ability to respond immediately to any of your needs. We will use this knowledge and experience to help you get started so you too can achieve your goals.

We possess the skills, desire and knowledge to answer questions, solve problems, improve efficiency, reduce downtime, maintenance costs and increase the durability and life of all of your vehicles.

Read what our satisfied customers have to say about us. Read through our website. Contact us with any questions. If you decide to become an AMSOIL Dealer you will be joining, in our opinion, the most skilled AMSOIL group there is. We will help you get started and provide you with the tools and information in order to be successful in this business or with technical and product assistance to use AMSOIL products in your own vehicles.
We offer several options to receive information on AMSOIL. We welcome the opportunity to work with you personally as your servicing AMSOIL Dealer.
Option 1 - The best option
If you are serious about AMSOIL products and the business opportunity this is the best option. You will receive extensive technical and business support from both myself and my AMSOIL Dealer Group. We look forward to helping you learn about AMSOIL. Also, we can help you set up a website to promote your AMSOIL Business. If you would like a comprehensive wholesale pricing, product, technical and business package sent to you just click the following link to our form:
Click here: Free Catalog and Information Packet
Option 2 -
Email us at kent@enhancedsyntheticoil.com and we will send you an exclusive comprehensive package of product, technical and business information.

Option 3 -
For a smaller, very general information package (which includes a catalog and Dealer application) you can request information via any of the links below.
To request a FREE Factory Direct Catalog
For Information on Becoming an AMSOIL Dealer
To Buy AMSOIL Products in the AMSOIL On-Line Store
To Sell AMSOIL in Your Store or Purchase For Use in Your Businesses Equipment
To visit the AMSOIL Corporate Website for Product and Business Opportunity Information
AMSOIL is Proudly Made in the U.S.A.
AMSOIL is America's Oil.
Home | Contact Us | On-Line Store | Links | Privacy Policy | Site Map |
Enhanced Synthetic Oil, a Division of
Racers Products, LLC
Kent Whiteman
Ogden, Utah 84403
Phone Toll Free: 877-786-9582
Email: kent@enhancedsyntheticoil.com
---
Copyright 2003-2007 Enhanced Synthetic Oil a Division of RACERS PRODUCTS, LLC All Rights Reserved. No part of this website may be reproduced or distributed in any form or by means, or stored in a database or retrieval system, without prior written permission. Special undetectable methods are used that will identify any of this material copied, reworded/re-written and published to the web.